Back as promised…I know this isn't everyone's cup of tea so to speak but I hope you enjoy it. This is obviously the 5th edition of this series. In Part 1, Part2, Part 3, and Part 4. We covered Brian May's Red Special, Willie Nelson's Trigger, George Harrison's Rocky, Eddie Van Halen's Frankenstrat, Bruce Springsteen's guitar, Neil Young's Old Black guitar, John Lennon's Casino + a Bonus, and Keith Richards Telecaster.
Today will we look at:
Paul McCartney's Hofner Bass and Eric Clapton's Blackie.
Paul McCartney's Hofner Bass and the MISSING Hofner Bass
Paul's bass is maybe the most iconic guitar/bass of all time in rock music. You see this bass and you think Beatles. I see the attraction to this bass. I have a Hofner copy and I've played a Hofner a few times. They are ultra light and have a nice feel to them. The Hofner is really easy to play.
Lets start with the Hofner he bought in Hamburg in 1961…we will call it The Cavern Bass or Hofner#1.  It was played on some iconic Beatles recordings including their very first studio outing in June 1961 in Hamburg, their first single Love Me Do in 1962 and their first two albums, Please Please Me and With The Beatles in 1963. It's the one you hear on "She Loves You, "Twist and Shout", it was played in Hamburg, at The Cavern Club, and at Abbey Road.
In 1965 he sent it in to get it worked on…it was  sprayed with a darker sunburst and the pickup guard removed.
It was last seen in the 1969 footage from Twickenham Studios, where the Beatles were filming "Let It Be." Soon afterward, it was stolen, most likely from a closet at EMI's Abbey Road studio, along with Harrison's Gretsch Tennessean and second Ric 360-12. People are still looking for that bass guitar.
These two pictures show the same Bass…the Cavern Bass…notice the different colors and the removed pick guard…but same bass.
In 1963 Paul bought another Hofner bass that he used as his primary bass and played it from then on and still does. We will call it Hofner #2. He didn't retire the Cavern Bass but just used it as a back up to Hofner #2.
Here are the two basses labeled…the #1 is the lost/stolen Cavern bass and the #2 is the 1963 bass he used throughout the Beatles. Paul is still looking for the Cavern Bass and the Hofner company has a webpage describing the bass and trying to get it back for Paul.
I have to wonder who has this bass. Odds are they don't know what they have… if it survives. I hope Paul gets it back… he loves instruments and still has many of the instruments he used with The Beatles… Hey…lets go out and find this bass…that would be one way to meet him!
***From the  mid-sixties on he would use a Rickenbacker bass which produced brighter and clearer bass sound. He famously used one on Sgt Pepper. He used both basses through the years.
Eric Clapton's Blackie

Eric built this guitar in around 1970 from different Fender Strats…here is Eric telling the story.
Eric Clapton: "I was in Nashville and I went into this shop called Sho-Bud where they had stacks of Fender Strats going for virtually nothing because they were so unfashionable and unwanted," 
"I bought a big pile of them all for a song – they were really cheap, like $300 or $400 each – and I took them home and gave them out. I gave Steve Winwood one, I gave Pete Townshend one, I gave George Harrison one and I kept a few, and I made Blackie out of a group of them. I took the pickups out of one, the scratchplate off another, the neck off another and I made my own guitar, like a hybrid guitar that had all the best bits from all these Strats."
Blackie would be the main guitar used on every one of Eric's albums for 15 years. During that time, Eric and Blackie would rack up an impressive number of hits, including "Cocaine," "I Shot the Sheriff," "Wonderful Tonight," and "Lay Down Sally."
in 2004, Eric worked with Christie's to auction the legendary guitar off. The winner paid $959,000 for Blackie, with most of the proceeds again supporting Eric's Crossroads Center.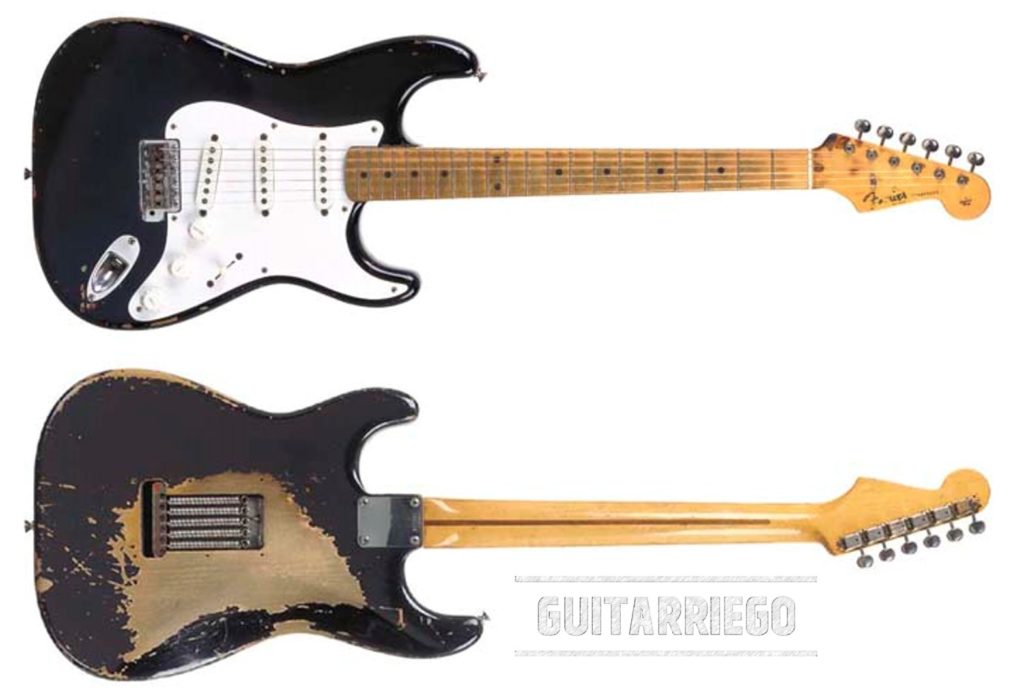 …