I love guitars…I own 12 of them. It's something about them that draws me in. Each one has its own sound and vibe. My family made guitars in the 60's and 70's so I do remember as a small kid walking into the guitar shop smelling the wood and glue. Some guitars are just as famous as their former or current owners.
I will include 2 guitars per post…this week we have two famous guitars from two completely different artists.
Brian May's "Red Special"
Brian May's sound was as a big part of Queen as Mercury's voice. Brian May designed and built the Red Special with his father, in 1963, using any parts they could find.  The neck of the guitar was fashioned from an 18th-century fireplace mantel, the inlays on the neck from a mother-of-pearl button. For the body, they used wood from an old oak table. Then the bricoleurs combined a bike saddlebag holder, a plastic knitting needle tip, and motorbike valve springs to create a tremolo arm.
Brian May: I remembered that at the time we finished the topcoat of varnish, my Dad had wanted to christen her as the Brian May Special, and I had poo-pooed the idea; now I realized that it wasn't so uncool to give her a proper name. So one day in a radio interview, when someone asked me what I called the guitar, the words Red Special just tumbled out before I'd had time to think.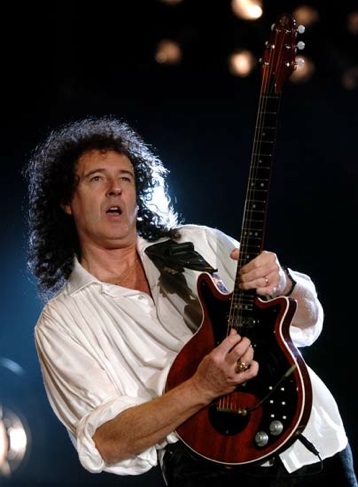 The Red Special is not in a museum it's with Brian and it's still his number 1 guitar.
Willie Nelson's 'Trigger'
I have a couple of guitars that has some cracking in the finish but nothing I've had or seen compares with this one.
For more than 40 years Willie Nelson has been playing a Martin N-20 nylon-string acoustic guitar he named "Trigger," after Roy Rogers' horse. A classical guitar designed with no pick-guard, the famous relic has developed a gaping hole in the body.
Willie got this guitar in 1969 after a drunk stepped on his Baldwin guitar. The same year he bought Trigger his house caught fire and Willie braved the blaze to pull it out.
Willie Nelson has said…."When Trigger goes, I'll quit."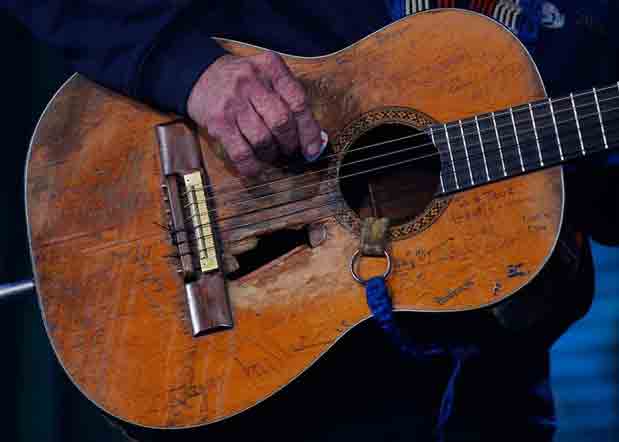 Trigger sees a guitar technician at least twice a year, and despite everything the instrument has been through it has no major cracks, the back is whole, and the headstock has never been broken.
Willie still plays this guitar…and yes it has a distinctive sound all its own.