This is obviously the 4th edition of this series. Part 1, Part2, and Part 3 we covered Brian May's Red Special, Willie Nelson's Trigger, George Harrison's Rocky, Eddie Van Halen's Frankenstrat, Bruce Springsteen's guitar, and Neil Young's Old Black guitar.
Part 5 will be right after the holidays. Next week I will have a post on a not so famous guitar…one of my guitars with an interesting back story.
Today we will look at two Alpha males of their bands. Plus an odd Bonus!
John Lennon's Epiphone Casino and Keith Richard's "Micawber" … +
Bonus!
John was best best known for two guitars. His Rickenbacker 325 and this Epiphone Casino.
In 1964 Paul McCartney bought a 1964 Epiphone Casino and he would end up using on songs like Taxman and Paperback writer. In 1966 John Lennon and George Harrison would buy 1965 Casino's for themselves.
John's was a double-cutaway semi-hollow f-hole body, P-90 pickups, vintage tuners with small buttons, trapeze tailpiece and originally a sunburst finish. However, after hearing from Donovan Leitch that a guitar would sound better without a heavy finish, he decided to sand the paint off the instrument, leaving it with a natural wood finish.
John played this guitar on the White Album and Abbey Road. He continued to play it many times for the rest of his career.
Lennon was never a "gear" head. He was known as an impatient man and would just plug in and go. Rick Nielsen of Cheap Trick said he played around with the famous Rickenbacker at the Double Fantasy recording session but John didn't play it on that album because it was in such bad shape. Rick said "the set list from Shea Stadium was still scotch-taped to the back of the guitar"…he said it was almost unplayable. It had rusty strings.
This video is about an Epiphone newer Casino model that was released it was inspired by Lennon's guitar.

Bonus Guitar

…John Lennon's Sardonyx guitar 
This is a "Bonus" guitar…the one John Lennon used on the Double Fantasy recordings. One of the oddest guitars I've ever seen. It is a Sardonyx guitar made in the seventies. It had built in effects and the rails acted as a guitar stand.
John Lennon bought this guitar from Matt Umanov's guitar shop in Manhattan's West Village… which is the shop where Jeff Levin sold many of his guitars through. Ken Schaffer actually sold most of them. Ken sold Jeff's guitars to Ian Hunter, Howard Leese, Jeff Lynn, Pappy Castro, and a couple bass models to Phil Lynott and Bootsy Collins. It was Ken who sold John Lennon his Sardonyx, directly.
It's not famous but it was so odd I had to include it.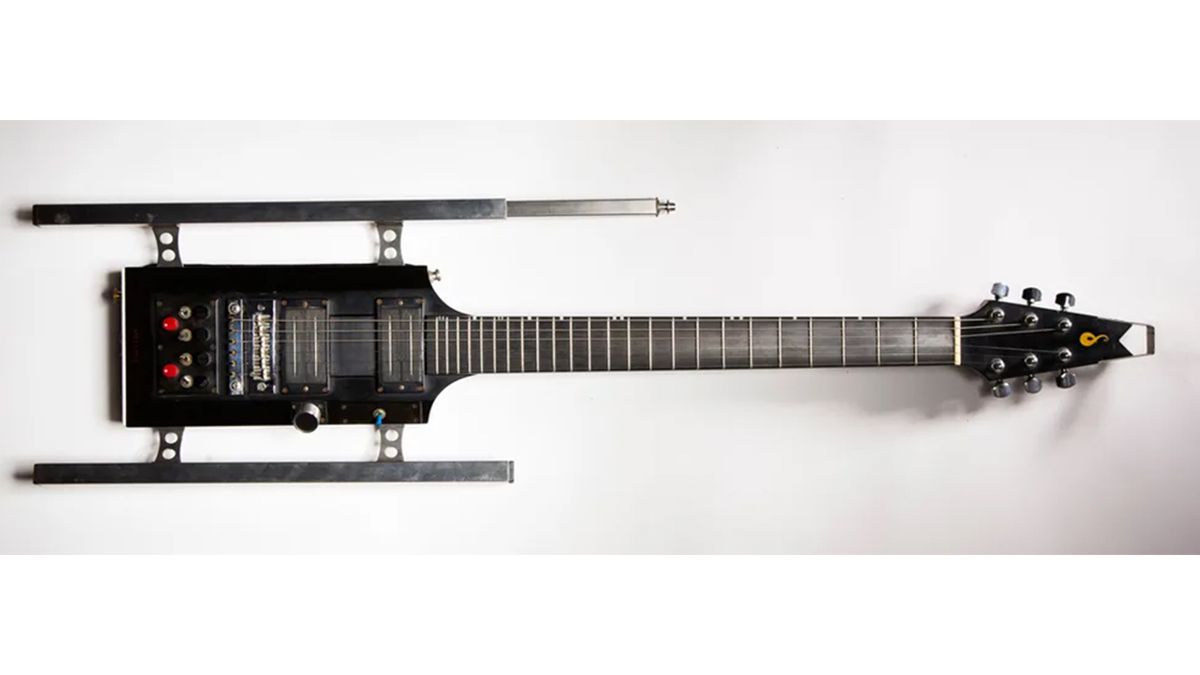 Ken Schaffer: Months after John bought the guitar, I got a call from John's personal assistant, who asked me to come to the Dakota. John had been impressed by the electronics I'd stuffed into the Sardonyx, and asked to retain me to design the kill-all stereo he had in mind for the new apartment in the Dakota. In the small bedroom, which was to be Command Central for the system, hung above and behind the bed, vertically — the Sardonyx! MY Sardonyx! (Tears were welling up) … "Fred – you mean – John is using my guitar as a ($#%$&%*$) WALL ORNAMENT?!" Fred was John's PA, and fought to settle me down, "No, man – wrong! He loves that guitar so much it hangs over his head when he's sleeping!" (Tears dried) Whoa! And, in fact, there were pictures of this amazing guitar on the packaging of "Double Fantasy." It was the guitar he used throughout.
Keith Richards' Micawber
Micawber is a Butterscotch early fifties Telecaster Blackguard that Keith got around the recording of Exile on Main Street. The guitar was given to him by no other than Eric Clapton as a birthday present.
After the 1972 tour, Keith's tech at the time, Ted Newman Jones III, replaced the neck pickup with a 50's Gibson PAF humbucker upside down and the bridge pickup with a pickup out of a Fender lap steel which he chose because it was as close as he could find to the pickups used in a Broadcaster
In the 80's Keith gave the guitar the nickname "Micawber" after a character in a Charles Dickens novel. Micawber has been Keith's go-to for any song using Open G tuning.
In the eighties then guitar tech Alan Rogan made more modifications…Sperzel locking tuners and a modified brass bridge in which the low E saddle is removed to accommodate his five-string tuning.
I have used this 5 string tuning before. You can play a lot of the Stones catalog with that 5- string opening G tuning.
***Thanks to run-sew-read for pointing out this song by Barclay James Harvest called John Lennon's guitar. It would be about the Epiphone Casino.
From Songfacts….Barclay James Harvest guitarist John Lees wrote this song. On the original recording of "Galadriel," he played the Gibson Epiphone Casino that Lennon had played during the Beatles' last ever live performance, in January 1969. This song describes that experience