What a festival this was and what a town it still is. It happened in Love Valley North Carolina. The headliners were The Allman Brothers who at that time only had one album out and were largely unknown to the masses. This huge festival was soon known as Woodstock South.  Between 100,000-200,000 showed up.
A man named Andy Barker always wanted to live in a western town. When he was 29 years old he bought some land in 1954 and moved his family there. The land was in Iredell County and he he built the town and it was chartered in 1963. It has a saloon, hitching posts, a small church and more. No cars are allowed in town…you can walk or ride a horse through.
It's the place for riding horses, rodeos, and hiking trails with 2000 acres to cover. The population of Love Valley is right now at 96. Through the years it seems to stay around 100.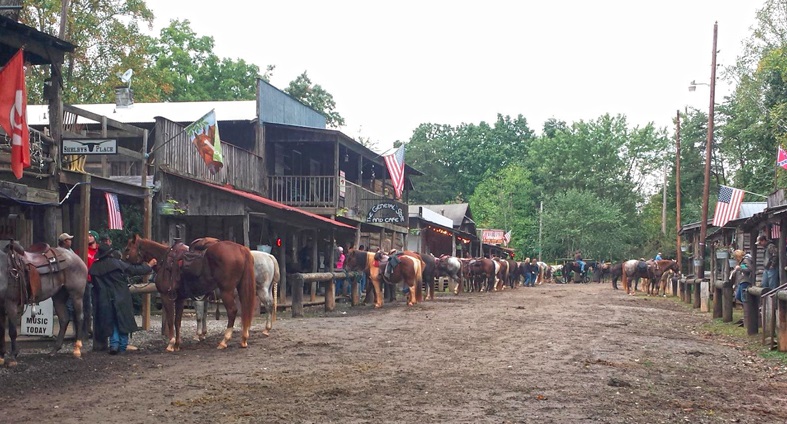 In 1969 Andy's daughter Tonda wanted to go to Woodstock but he thought she was too young. So he asked her and her 16 year old brother Jet Barker to organize a festive concert in Love Valley. While in college she had worked with an entertainment coordinator at college and knew the ropes. She managed to secure the Allman Brothers Band who at the time were known in the south but that is about it. They also got some more local bands to fill it out…it was a large bill. It took place Thursday July 16-18, 1970.
One interesting thing that happened was that the Hell's Angels and Outlaws showed up to do battle with each other. According to witnesses Andy Barker stopped them and confiscated a chain and ax from each and told them there would be no trouble here. They seemed to respect this man because after that the gangs dispersed and some camped out with no reported trouble. The festival went off without any major hitch.
Tonda: "It was perfect, it was like a dream. We had worked so hard and we could finally just sit down and enjoy it."
Andy planned to make a documentary of it but it didn't happen. All we have to look at is some grainy footage but that grainy footage shows Duane Allman a year before At Fillmore East was released. They were finishing up their second album Idlewild South at this time. Some very nice bootlegs are out there from their multiple sets.
Along with the Allman Brothers, the line up consisted of these bands: Big Brother and the Holding Company (without Janis), Radar, Peace Core, Wet Willie, Johnny Jenkins, Tony Joe White, Hampton Grease Band, Donnydale, Catfish Freedom, Sundown, Chakra, Hot Rain, Kallabash, Warm Stone Blind, Captain John's Fishmarket. There were over 40 bands over that weekend.
Some like Wet Willie would go on to have a few hits. Tony Joe White had a top ten hit with Polk Salad Annie the year before.
Ed Buzzell was a UPI stringer and took these photographs...they are amazing. They don't show many bands…just the people…you feel like you are there.