I was looking for a Beatles song to post about and I came across Hobo Moon Cartoons a while back and this new video was featured. Check the site out when you can.
What a beautiful song this is..I think it's one of Paul's and The Beatle's best ballads. Paul has said before that the song was inspired by the Beach Boys' "God Only Knows" off of their album Pet Sounds.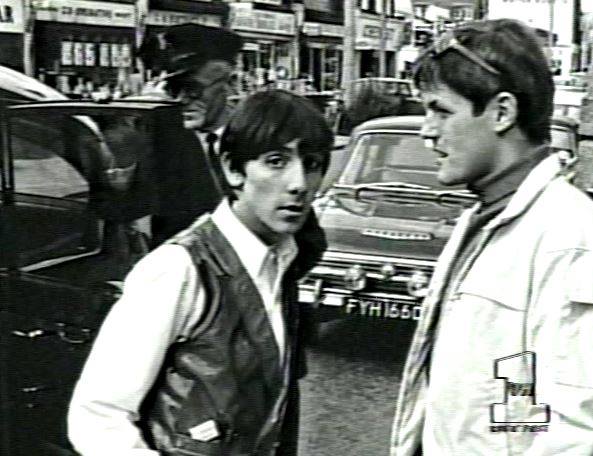 The way that John and Paul heard Pet Sounds for the first time is interesting. Beach Boy Bruce Johnston was in England in 1966 and he met a huge Beach Boy fan Keith Moon. Moon dragged him to every hip spot in London. To Johnston's surprise and amazement…he took him to a hotel and invited John and Paul to come over and meet Johnston and listen to the Beach Boy's new album that was about to be released. Bruce had no idea how connected the Who's drummer was at the time. He had come to England to sightsee and maybe hype the album a little but did not expect to have an audience of John and Paul.
Keith at the time acted like he liked the album but at heart, he wanted the same old surf songs…he wasn't expecting an art-pop album from the Beach Boys. John and Paul were knocked out by Pet Sounds and after hearing God Only Knows Paul came up with this melody and he and John finished it off. Paul said this song was around 80-20 his song. It was a full circle because Brian Wilson was inspired by Rubber Soul when writing Pet Sounds.
Paul said that John praised his songwriting only once. He said "John says just as it finishes, 'That's a really good song, lad. I love that song.' And I'm like, 'Yes! He likes it!'"
The song was on arguably the Beatle's best album Revolver. This song was somehow not released as a single. The album peaked at #1 in the Billboard Album Charts, in Canada, and in The UK in 1966. During the 1987 CD releases, it peaked at #3 on the US Billboard Top Compact Disks Charts…seriously? I never heard of the US Billboard Top Compact Disks but that is also a chart.
Paul McCartney: "I wrote that by John's pool one day, I sat out by the pool on one of the sun chairs with my guitar and started strumming in E, and soon had a few chords, and I think by the time he'd woken up, I had pretty much written the song, so we took it indoors and finished it up…John might have helped with a few last words…But it's very me, it's one of my favorite songs that I've written…So I would credit me pretty much 80-20 on that one."
John Lennon:  "Here, There And Everywhere' was Paul's song completely, I believe – and one of my favorite songs of The Beatles."
John Lennon: "There was a period when I thought I didn't write melodies, that Paul wrote those and I just wrote straight, shouting rock'n'roll. But of course, when I think or some of my own songs – 'In My Life,' or some of the early stuff, 'This Boy' – I was writing melody with the best of them."
The Beatles released an animated video for this song in 2022. It was directed by Rok Predin.
Here, There, And Everywhere
To lead a better life
I need my love to be here
Here, making each day of the year
Changing my life with a wave of her hand
Nobody can deny that there's something there
There, running my hands through her hair
Both of us thinking how good it can be
Someone is speaking
But she doesn't know he's there
I want her everywhere
And if she's beside me I know I need never care
But to love her is to need her everywhere
Knowing that love is to share
Each one believing that love never dies
Watching their eyes and hoping I'm always there
I want her everywhere
And if she's beside me I know I need never care
But to love her is to need her everywhere
Knowing that love is to share
Each one believing that love never dies
Watching their eyes and hoping I'm always there
I will be there
And everywhere
Here, there and everywhere