When I was growing up this was a must-watch in October. It's The Great Pumpkin, Charlie Brown was first released in October 1966.
Charlie Brown is invited to Violet's Halloween party. Before the party, the Peanuts gang plan to go trick or treating, with Snoopy, who is dressed as the WWI flying ace, taking his Halloween disguise to an extreme. The one person who won't be joining them for the trick or treating or the party is Linus, who will be waiting in his local pumpkin patch for the arrival of the Great Pumpkin to give toys and candy to all the girls and boys.
This year he talked Sally, Charlie Brown's sister, into coming with him while the others went out. Linus and Sally stays at the pumpkin patch all night until Lucy gets up in the middle of the night to take Linus back home. The next day, Charlie Brown and Linus about the night's events. Charlie Brown assures Linus that he's done his share of stupid things too. This upsets Linus, who vows that the Great Pumpkin will appear next year.
It's The Great Pumpkin Charlie Brown was adapted from Schulz's newspaper strip, which he had conceived as a metaphor for some of the hope and disappointment associated with Santa Clause. Schulz didn't like the idea of kids getting their hopes up about a lot of presents when many families could only afford one or two gifts for the holidays. "The Great Pumpkin is really kind of a satire on Santa Claus, when he doesn't come, Linus is crushed."
Growing up, there was no other cartoon I looked forward to more than The Peanuts. Every holiday I was there watching the gang. I would also read the Sunday paper to see the Peanuts strip.
Everything from Linus telling us the true meaning of Christmas, Sally and Linus waiting for the Great Pumpkin, Lucy pulling that football from Charlie Brown, Snoopy being WWI flying ace, Lucy being a Psychiatrist, and Charlie Brown getting that sad-looking Christmas tree…we got to peek into that kids only world and listen to the wisdom that was going on while Linus and Charlie Brown discussed life.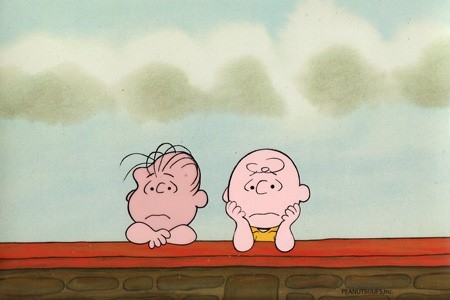 The Peanuts taught us about life. We lose more than we win therefore everyone is Charlie Brown to an extent. Every person has failed at a big moment or many of the small ones. We felt for Charlie Brown because we could relate.