Whenever I go to a yard sale or flea market and I see one…I have to get it. Worlds Greatest Dad, Worlds Greatest Mom, Worlds Greatest Grandpa, "Being Sick is bad for your health" and many more. They have a look that I like and are usually cheap…for two bucks you can have part of the seventies. 
He did more than the statues…he had stuffed animals and bears which in the 80s and 90s really took off…along with trolls.  
Russell Berrie started his business with only $500 and ran it out of a rented garage in Palisades Park, NJ. His first product to reach the shelf was his Fuzzy Wuzzie in 1964.
By 1968 Americans were ready for something a little bolder. Russ Berrie and Co. introduced Sillisculpts, plastic message figurines with a little more attitude. Two of the most memorable are the "I love you this much!" statuette and another of an old lawyer crying "Sue the bastards!" (I must find this one).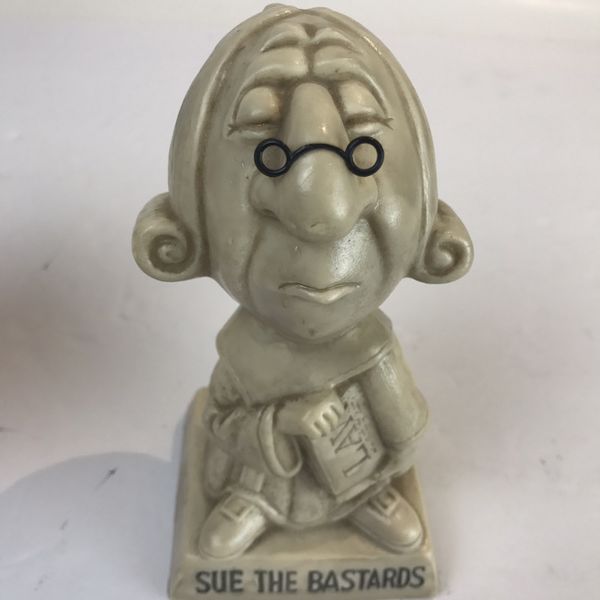 These come in every form and shape.
In 1971, as sales passed the $7 million mark, Russ Berrie and Company moved to a new corporate headquarters facility in Oakland, New Jersey. This location would become the center of the company's worldwide marketing and distribution businesses. In the following year, Russ Berrie and Company opened a second new facility, when a distribution center, in Santa Rosa, California, came online. 
By 1985, Russ Berrie and Company sales had reached $204.6 million, and revenues more than doubled in just two years.
In 1992, Russ Berrie and Company's fortunes got a lift, when the popularity of one of its oldest products, Trolls, first introduced in the 1960s, escalated dramatically. Although they had not been a big seller for many years, suddenly the company's trolls—squishy dolls with rubbery faces and hair that stood on end—were experiencing wild demand. To meet this clamor, Russ Berrie and Company's designers began to churn out hundreds of different troll products, and the company's Far Eastern suppliers raced to keep output high. By the end of the year, pushed by the troll fad, the company's earnings had soared to $300 million.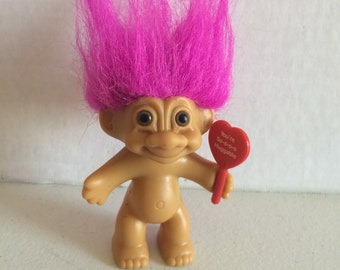 In 2001, Russ Berrie had sales of $294.3 million and net income of $40.2 million, selling items like a stuffed dog named Muffin and a stuffed bear known as Honeyfritz. 
In December 2002, Russ Berrie died unexpectedly after having a heart attack in his home. Often named by Fortune magazine as one of America's most generous philanthropists, Berrie was just 69 years old when he died.