I remember hearing this song on WMAK-AM in the seventies on my sister's Vega radio. The car that she carried a case of oil in the hatchback because it burned it more than gas.
This song was on the great album Court and Spark. Joni tried using LA's best session players for this but it didn't work like she wanted. She then used jazz musicians to back her on this album. Joni's songs can be complicated because Graham Nash once said that she played in so many different open chord tunings…that she made some of them up. The jazz band she used was The L.A. Express, led by saxophonist Tom Scott.
Joni Mitchell not only wrote her own songs but was also her own producer. That is not very common with female or male artists on the whole. This song was Mitchell's biggest hit that she had. That surprised me…I would have thought it would have been Big Yellow Taxi. I always compared her voice to a slide whistle we had as kids. That's not a put-down…but she can cover the gambit with her voice from low to extremely high.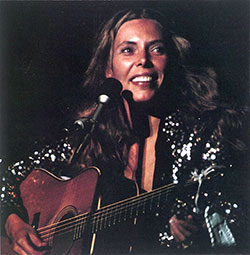 Who did she write this song about? Some say it was Jackson Browne who she had just broken up with and some say it's Glenn Fry. Whoever it's about she left it open enough so that anyone can relate to it. The song peaked at #6 in Canada and #7 on the Billboard 100.
Prince, who was a huge fan of Mitchell, even mentioned it on "The Ballad of Dorothy Parker" from his 1987 album, Sign 'O' the Times.
She said, "Sound like a real man to meMind if I turn on the radio?""Oh, my favorite song, " she saidAnd it was Joni singing: "Help me, I think I'm falling"
Joni Mitchell: "A throwaway song, but a good radio record."  "My record companies always had a tendency to take my fastest songs on album for singles, thinking they'd stand out because they did on the LPs. Meantime, I'd feel that the radio is crying for one of my ballads."
Help Me
Help me
I think I'm falling
In love again
When I get that crazy feeling, I know
I'm in trouble again
I'm in trouble
'Cause you're a rambler and a gambler
And a sweet-taIking-ladies man
And you love your lovin'
But not like you love your freedom
Help me
I think I'm falling
In love too fast
It's got me hoping for the future
And worrying about the past
'Cause I've seen some hot hot blazes
Come down to smoke and ash
We love our lovin'
But not like we love our freedom
Didn't it feel good
We were sitting there talking
Or lying there not talking
Didn't it feel good
You dance with the lady
With the hole in her stocking
Didn't it feel good
Didn't it feel good
Help me
I think I'm falling
In love with you
Are you going to let me go there by myself
That's such a lonely thing to do
Both of us flirting around
Flirting and flirting
Hurting too
We love our lovin'
But not like we love our freedom