I just saw a post about the album cover for News Of The World at The Press Music Reviews. It made me think of the first time I saw the cover of this album and when I heard this song.
In 3rd or maybe 4th-grade recess we were all going outside playing kickball. A friend of mine named Paul brought this album to school. We all looked at it and couldn't stop talking about that cool robot cover. That was before I listened to it.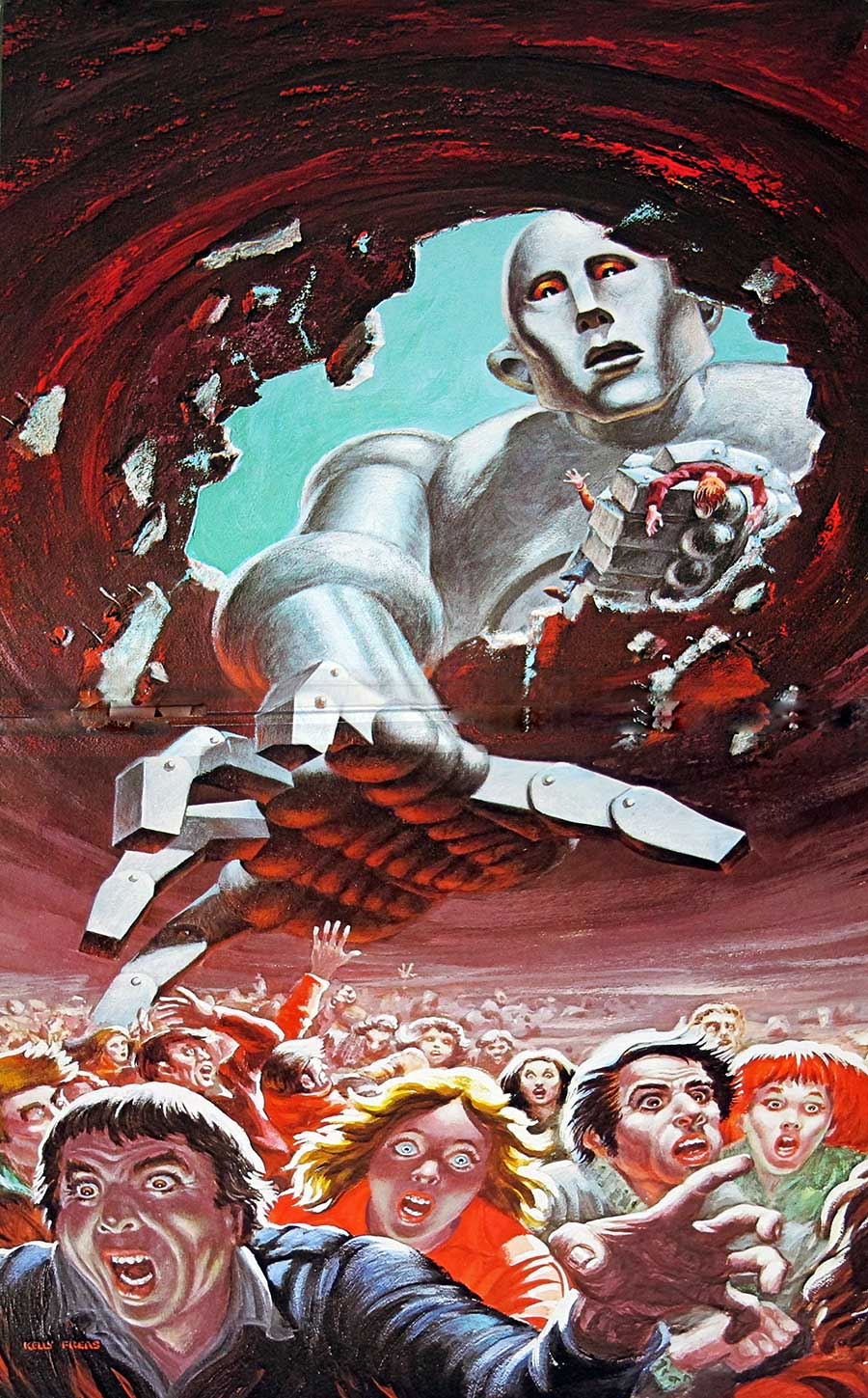 When I first heard We Will Rock You… the guitar solo is what stood out to me. It's so simple yet catchy like many of Brian May's solos…it was more like a hook. It turned into an anthem with We Are The Champions.  I made a vow that if I learned how to play guitar one day I would learn that solo. I forgot about that vow until a few years ago and I finally kept that promise to myself.
We Will Rock You was released as a double A-side single with We Are The Champions. Since the songs were released, the band has almost always used "Rock You" and "Champions" as a back-to-back encore number. The album peaked at #3 in the Billboard Album charts, #2 in Canada, #15 in New Zealand, and #4 in the UK in 1977.
On Queen's next album, they had another set of songs disc jockeys played together. "Bicycle Race" and "Fat Bottomed Girls" were segued together on their album Jazz. Those songs were also released as a double A-side single.
While in the studio they had a visit from no other than Sid Vicious. He berated Freddie Mercury and asked him if he had brought ballet to the masses yet…referring to an earlier Mercury interview.  Freddie said "I called him, I dunno, Simon Ferocious or something, and just pushed him out. I think… yeah, I think we passed that test." Roger Taylor later called Vicious a moron and idiot.
Brian May: There were two occasions that inspired it. One I've spoken about a lot, which was at Bingley Hall [near Birmingham, England] where the audience sang every song and then we went off stage and they carried on singing and then they sang [the de facto Liverpool F.C. football anthem] "You'll Never Walk Alone." It was a transitional time in rock. You went to see Led Zeppelin and The Who, you'd bang your head but you didn't sing along, that wasn't cool. This was an invitation to sing along.
A light went off and I thought, "We shouldn't fight this, we should embrace it!" People didn't do that at the time at rock concerts. I thought, "How interesting — if I wrote something, the audience could participate it to the point that they could lead the band?" I went to sleep and woke up with "We Will Rock You" in my head. When you're at a show you can hardly move, but you can stomp your feet and chant and clap and lead us.
Roger Taylor: "It only has one instrument apart from the voice: There's no bass, no real drums — just feet and handclaps and only that guitar at the very end. It's quite an odd song. It was designed as a sort of song for the audience, a joining-in song. But we never really envisioned that it would be taken up by sports. It's one of delights of… I've spent my life being in a band, so it sidelined all sports. I reckoned I could meet more girls being in a band than playing soccer."
The single was accompanied by a promo video that saw Queen perform the song in Roger Taylor's back garden and We Will Rock You quickly became the opening number on the band's winter tour.
We Will Rock You
Buddy, you're a boy, make a big noise
Playing in the street, gonna be a big man someday
You got mud on your face, you big disgrace
Kicking your can all over the place, singin'
We will, we will rock you
We will, we will rock you
Buddy, you're a young man, hard man
Shouting in the street, gonna take on the world someday
You got blood on your face, you big disgrace
Waving your banner all over the place
We will, we will rock you, sing it
We will, we will rock you
Buddy, you're an old man, poor man
Pleading with your eyes, gonna make you some peace someday
You got mud on your face, big disgrace
Somebody better put you back into your place
We will, we will rock you, sing it
We will, we will rock you, everybody
We will, we will rock you
We will, we will rock you
Alright