★★★★ 1/2  February 9, 1962 Season 3 Episode 21
If you want to see where we are…HERE is a list of the episodes.
This one is a borderline classic. What I get out of it is the idea that old age is just a state of mind. Being young is more about the willingness to take risks and having a sense of adventure rather than just playing it safe. Ernest Truex plays Charles Whitley who finds the secret of staying young. The pure joy that Truex shows is infectious. He appeared in the earlier Twilight Zone…What You Need.
I find it interesting in the contrasting dynamic between playful Charles Whitley and the stereotypical grouchy old man Ben Conroy played by Russell Collins. Charles moves around care free while Ben worries about everything and is determined to be a "get off my lawn" old man. This one is a little slower to develop but a great episode.
One character actor I do want to mention that appears in this episode is Burt Mustin. He doesn't have a big part but Mustin seemed to be everywhere on 50s- 70s tv shows.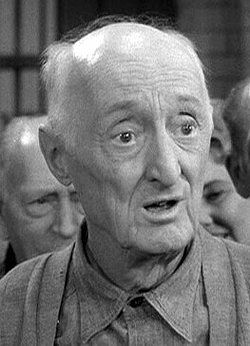 Kick the Can was remade in the Twilight Zone movie with Scatman Crothers and it was one of the best stories they had in the movie.
This show was written by George Clayton Johnson, Rod Serling, and Richard P. McDonagh
Rod Serling's Opening Narration: 
Sunnyvale Rest, a home for the aged – a dying place and a common children's game called kick-the-can, that will shortly become a refuge for a man who knows he will die in this world, if he doesn't escape into – The Twilight Zone.
Summary
Charles Whitley is an elderly resident of Sunnyvale Rest, a home for the aged. It's not a happy place and Charles' hopes of moving in with his son David are dashed when he's told they can't take him in. He wistfully recalls his youth where they played kick the can and didn't have a worry in the world. His close friend Ben Conroy begins to worry him when Charles suggests all you have to do is wish it, and you can be young again. Ben is worried his friend will end up in the loony bin but it's Ben who is in for a surprise.
Rod Serling's Closing Narration:
Sunnyvale Rest, a dying place for ancient people, who have forgotten the fragile magic of youth. A dying place for those who have forgotten that childhood, maturity, and old age are curiously intertwined and not separate. A dying place for those who have grown too stiff in their thinking – to visit – The Twilight Zone.
CAST
Rod Serling… Narrator / Self – Host (uncredited)
Ernest Truex…Charles Whitley
Barry Truex…Charles' son
Russell Collins…Ben Conroy
John Marley…Mr. Cox
Burt Mustin…Carlson
Earle Hodgins…Agee
Hank Patterson…Freitag
Marjorie Bennett…Mrs. Summers
Lenore Shanewise…Mrs. Densley
Eve McVeagh…Night nurse
Anne O'Neal…Mrs. Wister
…