I'm going to write about my top 10 favorite TZ episodes in the next few weeks…Most of the Twilight Zones are like songs to me…to be enjoyed over and over. The Twilight Zone is not really an ordinary TV show. It's THE TWILIGHT ZONE. This is my personal choice for #8 on my list.
Probably one of the creepiest Twilight Zones. The way it ends keeps you thinking after the show is done. This was the final episode of The Twilight Zone to be filmed, although two episodes filmed earlier were aired afterwards.
Rod Serling Intro: Mr. Floyd Burney, a gentleman songster in search of song, is about to answer the age-old question of whether a man can be in two places at the same time. As far as his folk song is concerned, we can assure Mr. Burney he'll find everything he's looking for, although the lyrics may not be all to his liking. But that's sometimes the case – when the words and music are recorded in the Twilight Zone.
Richard Donner wrote this episode. This one wasn't rated as high as some of the others but it stuck with me for a long time. The desperation in Mr. Floyd Burney is something to remember.
Come Wander With Me: Singer Floyd Burney, a rockabilly singer, goes deep into the back woods hoping to find a folk song to buy and release. As soon as he arrives he hears a beautiful singing voice which draws him deeper into the woods. He eventually meets Mary Rachel who tells him the song he heard belonged to someone and that she's forbidden to tell anyone about it. When she finally reveals it to him, Floyd learns that his future might be preordained. And the outcome might make him wish he never roamed into this strange place.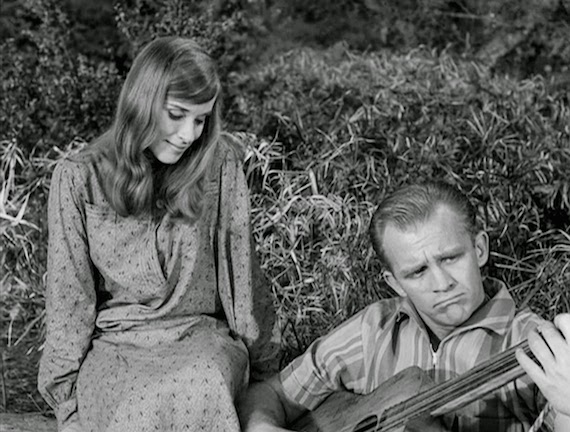 Gary Crosby (Bing Crosby's son) plays Floyd Burney and is very realistic as a fast talking rockabilly singer. Bonnie Beecher is the mystery of this show. She didn't do much acting after this…her voice was used for the main song and it was beautiful. She ended up marrying Hugh Nanton Romney Jr. (Wavy Gravy) who was an entertainer and peace activist and was seen on the film Woodstock.
Cast
Bonnie Beecher – Mary Rachel
John Bolt – Billy Rayford
Hank Patterson – Storekeeper
Gary Crosby – Floyd Burney