The Peanuts lived in a world where adults didn't matter as much. The world was for kids only and anytime an adult came around and talked… all you heard was a wah, wah, wah wah… no words. All the kids owned their day to day activities. The Peanuts didn't talk down to us…no they talked to us. They were also clever enough for adults to like.
Nobody ever wins every time in this life. Everyone loses sometimes…therefore everyone is Charlie Brown to an extent. Every person has failed at a big moments or at small moments. We felt for Charlie Brown because we felt for ourselves.
When my son was born…I thought oh great…Now I'm a grown up and I'm a wah, wah, wah, wah adult…My son will live his life and sometimes I will be just noise in the background.
Growing up, there was no other cartoon I looked forward to more than the Peanuts. Every holiday and any time one of the networks decided to show one… I was there. I would also read the occasional Sunday paper to see the Peanuts strip.
Everything from Linus telling us the true meaning of Christmas, Sally and Linus waiting for the Great Pumpkin, Lucy pulling that football from Charlie Brown, Snoopy being cool and taking care of Woodstock, Lucy being a Psychiatrist and Charlie Brown getting that sad looking Christmas tree…we got to peek into that world and listen to the wisdom that was going on while propped up on that brick wall.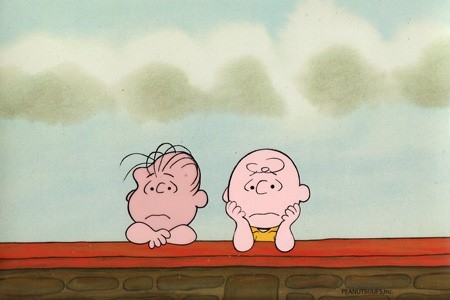 Charlie Brown, one day when you grow up… I hope you end up with the little red head girl that you like so much and win just for once…for all of us.