Neil Young wrote this about the caretaker of the ranch he bought in 1970.
His name was Louis Avila. The ranch was the Broken Arrow Ranch, purchased for $350,000 in 1970 (I have to wonder what it would cost now). Reportedly, Avila was giving Young a tour of the place and asked him how a young man like him could afford a place like this. Young, aged 25, replied "Well, just lucky, Louie, just real lucky.' And Louis said, 'Well, that's the darndest thing I ever heard.'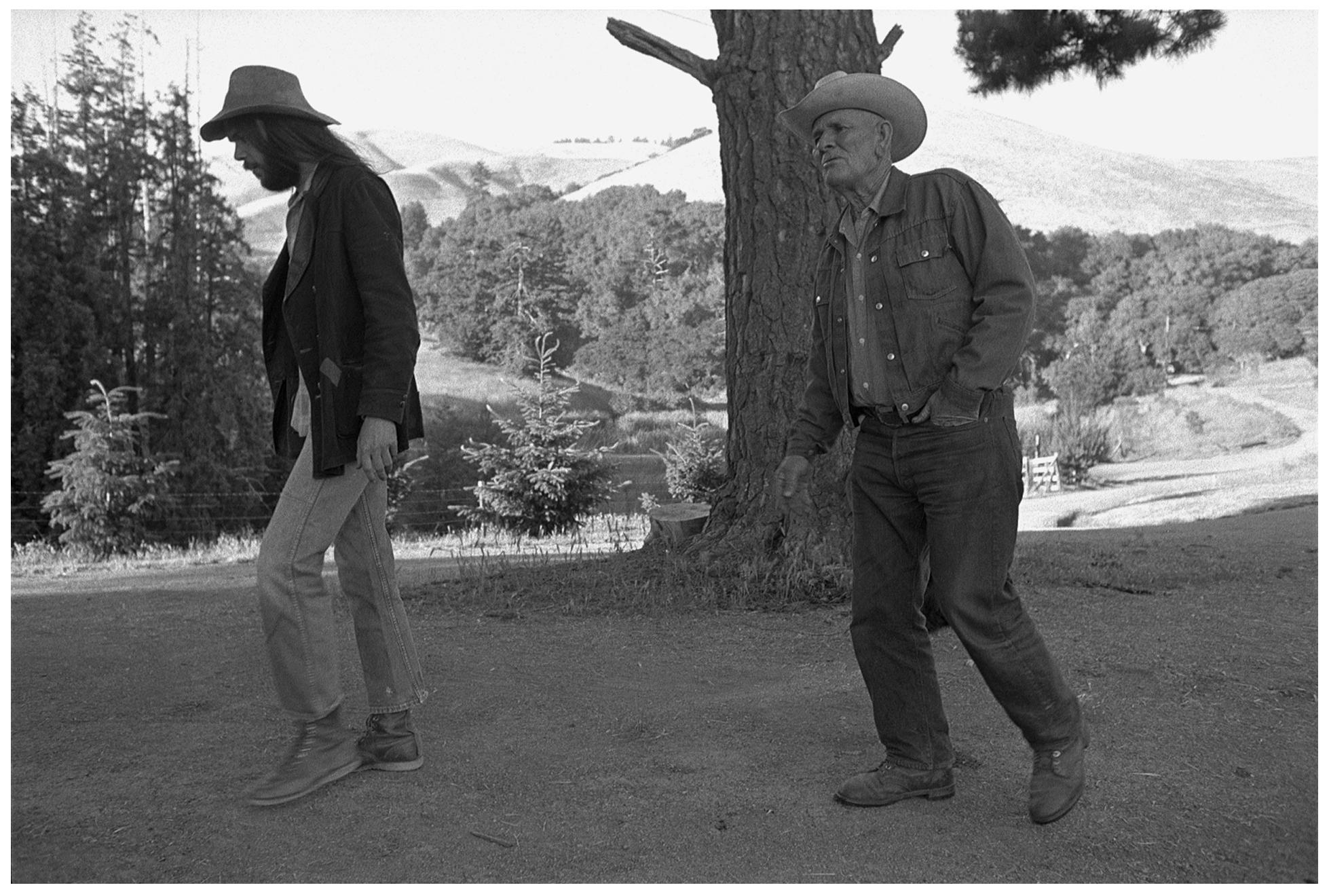 Linda Ronstadt and James Taylor sang backing vocals on  Old Man and another Harvest track, Heart of Gold. James Taylor played six-string banjo.
Old Man peaked at #31 in the Billboard 100 and #4 in Canada in 1972. Looks like Canada got this right.
Linda Ronstadt: "I can't remember why Neil wanted me to sing with him – I guess he just figured I was there and could do it but we went in there and they were doing 'Heart of Gold' and 'Old Man' and I thought they were such beautiful songs. I loved them.
And I knew how to do harmonies. I'd listened to the Buffalo Springfield harmonies and I knew how to get that 7th they always used. I don't think we started until midnight and it was dawn when we came out, and it was snowing – we came out to this beautiful snow storm in the rising sun. It was really exciting. I just thought I've been part of something really wonderful."
Neil Young: About that time when I wrote (Heart of Gold), and I was touring, I had also — just, you know, being a rich hippie for the first time — I had purchased a ranch, and I still live there today.
And there was a couple living on it that were the caretakers, an old gentleman named Louis Avala and his wife Clara. And there was this old blue Jeep there, and Louis took me for a ride in this blue Jeep. He gets me up there on the top side of the place, and there's this lake up there that fed all the pastures, and he says, 'Well, tell me, how does a young man like yourself have enough money to buy a place like this?'
And I said, 'Well, just lucky, Louie, just real lucky.' And he said, 'Well, that's the darndest thing I ever heard.'
From Songfacts
This was the first song recorded for the Harvest album. Neil Young arranged the session the previous night when he was at a party held at Quadrafonic Studios in Nashville (he was in town to record a segment for Johnny Cash's TV show). The studio owner Elliot Mazer was also a producer who had worked with a band Young admired called Area Code 615. Young asked if he could record there the next day, and Mazer complied, supplying not just the studio, but also the musicians.
The session took place on Saturday, February 6, 1971 with a group of Music City studio pros: Ben Keith on pedal steel guitar, Tim Drummond on bass and Kenny Buttrey on drums.
It was never the metric on which he wanted to be judged, but "Old Man" was the second-biggest hit for Neil Young as a solo artist, reaching #31 on the Hot 100. His biggest hit, by far, was his previous single, the Harvest track "Heart of Gold," which went to #1.
There was some conflict over a hi-hat when Young recorded this song. When drummer Kenny Buttrey played it, Young told him not only to refrain from the hi-hat, but to only play with his left hand, which Buttrey thought was ridiculous. The drummer complied, however, literally sitting on his right hand to resist temptation. Buttrey later quipped: "He hires some of the best musicians in the world and has them play as stupid as they possibly can."
It was immediately after the success of "Old Man" and the Harvest album that Danny Whitten, central to Young's band Crazy Horse, passed away. Young invited Whitten to audition for his backing band the Stray Gators on the condition that he cleaned up his substance abuse. Young gave him a trial, but it looked to be the same old story with Whitten, so he fired him. Whitten promptly went home and overdosed, found dead with Valium and alcohol in his system.
Young got the call that night, and was devastated. Whitten's death was part of the darkening of Neil Young's act during the time following "Old Man;" it wasn't just the success or being "headed for the ditch."
Young told Jimmy McDonough that the line "Does it mean that much to me, to mean that much to you?" is meant to be directed towards the audience.
James Taylor is credited with playing "guitar-banjo" on this song. Taylor, who along with Linda Ronstadt was in the studio recording vocals, saw the banjo and started playing it. The instrument belonged to Young; it was a called a "guitar-banjo" because it was a banjo tuned like a guitar.
Bob Dylan covered this song throughout his 2002 tour.
This song has appeared in various films over the years, including Due Date, Lords of Dogtown, and Wonder Boys.
2015 The Voice champion Sawyer Fredericks covered the song during the show's finale. The following week his version reached #63 on the Hot 100.
In 2018, a 72-years Young said during a concert in Chicago: "It's hard to do 'Old Man' now. It's like, 'Old man take a look at my life, I'm a lot like I am."
At the memorial service for actor Heath Ledger, "Old Man" was chosen as the song to play over a slideshow showing his various roles and life.
Old Man
Old man, look at my life
I'm a lot like you were
Old man look at my life
I'm a lot like you were
Old man, look at my life
Twenty four and there's so much more
Live alone in a paradise
That makes me think of two
Love lost, such a cost
Give me things that don't get lost
Like a coin that won't get tossed
Rolling home to you
Old man, take a look at my life, I'm a lot like you
I need someone to love me the whole day through
Ah, one look in my eyes and you can tell that's true
Lullabies, look in your eyes
Run around the same old town
Doesn't mean that much to me
To mean that much to you
I've been first and last
Look at how the time goes past
But I'm all alone at last
Rolling home to you
Old man, take a look at my life, I'm a lot like you
I need someone to love me the whole day through
Ah, one look in my eyes and you can tell that's true
…