I'll be back posting this coming Friday, September 2. Thanks for stopping by!
Love this song from Peter Bucks jangling intro to the song's melody. The origin of this song came on June 11, 1983. REM was opening up for the Human League in Los Angelos and heard about bad rainstorms in south Georgia where they were from. They were trying to call their families but the phones were down because of the torrential rain.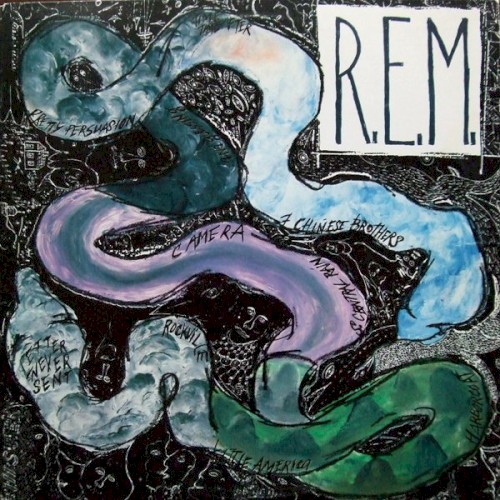 The song was on their Reckoning album released in 1984. It peaked at #27 on the Billboard Album Charts, #23 in New Zealand, and #91 in the UK in 1984. REM. avoided the sophomore slump with Reckoning. It's hard to beat this song as the first single off the album. I always thought So. Central Rain stands as one of the group's most melodic songs.
The band chose to work with Murmur producers Don Dixon and Mitch Easter. They recorded the album in just a few weeks. Peter Buck told Rolling Stone magazine:  "We were going through this streak where we were writing two good songs a week, We just wanted to do it; whenever we had a new batch of songs, it was time to record!"
The cover art to the album came from Stipe.  The drawing of a two-headed snake which he gave to artist Howard Finster to fill in as a painting. A Georgian artist and Baptist minister, Finster claimed to be inspired by God to spread the gospel through the design of his swampy land into Paradise Garden, a folk and art sculpture garden in his native state which can also be seen in the video for Radio Free Europe.
The song peaked at #85 on the Billboard 100 and #43 on the Mainstream Rock Charts.
REM performed this song on The David Letterman Show in October of 1983 before it had a title. It was their first national TV appearance.
Michael Stipe: "They were all really nice to us, we were so green. The producers told us before the show that Dave would come over and talk to one band member after the song, and so Peter was chosen to represent us all. We made it through the song fine, but when Dave came over to talk I sat down on the floor monitor, and from that moment on, forever and ever, I was dubbed 'enigmatic.' What a crackup. Meh!"
They played two songs…this one is at the 7:10 mark.
So Central Rain (I'm Sorry)
Did you never call? I waited for your call
These rivers of suggestion are driving me away
The trees will bend, the cities wash away
The city on the river there is a girl without a dream
I'm sorry, I'm sorry, I'm sorry, I'm sorry
Eastern to Mountain, third party call, the lines are down
The wise man built his words upon the rocks
But I'm not bound to follow suit
The trees will bend, the conversation's dimmed
Go build yourself another home, this choice isn't mine
I'm sorry, I'm sorry
Did you never call? I waited for your call
These rivers of suggestion are driving me away
The ocean sang, the conversation's dimmed
Go build yourself another dream, this choice isn't mine
I'm sorry, I'm sorry, I'm sorry, I'm sorry