I have a bootleg concert of The Who in 1976 in Houston. This song is very dynamic and powerful live. This was released in August 1976 in Canada and the US with "Dreaming From The Waist" as its B side. It was on the album The Who By Numbers and it peaked at #8 in the Billboard Album charts, #7 in the UK, #9 in Canada and #29 in New Zealand in 1976.
The Who played this song in 1976 but after they didn't play it much at all until the 50h anniversary tour.
Pete Townshend wrote this song, which uses imagery as metaphor for life in the music business. Much of the album deals with his frustrations with the industry, of being obsolete as a 30-year-old rock star. Oh, how times have changed now.
Pete usually wrote a lot of songs for the band to pick from for an album. This time they recorded everything he wrote because he was going through writer's block at the time.
It's one of my favorite Who album covers. They usually took turns on who would think of the album cover. It was John Entwistle's turn and he drew the album cover along with numbers.
John Entwistle on the cover
"The first piece of artwork released is The Who by Numbers cover, which I never got paid for, so now I'm going to get paid. We were taking it in turns to do the covers. It was Pete's turn before me and we did the Quadrophenia cover, which cost about the same as a small house back then, about £16,000. My cover cost £32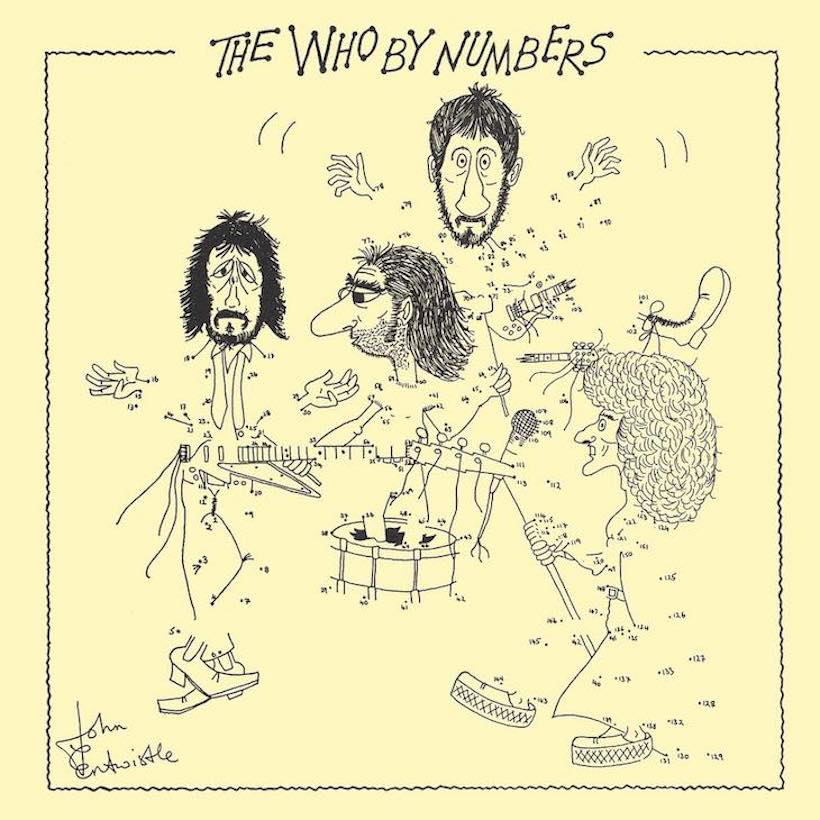 Pete Townshend: "'Slip Kid' came across as a warning to young kids getting into music that it would hurt them – it was almost parental in its assumed wisdom."
Pete Townshend on The Who By Numbers: I felt partly responsible because the Who recording schedule had, as usual, dragged on and on, sweeping all individuals and their needs aside. Glyn worked harder on The Who by Numbers than I've ever seen him. He had to, not because the tracks were weak or the music poor but because the group was so useless. We played cricket between takes or went to the pub. I personally had never done that before. I felt detached from my own songs, from the whole record. Recording the album seemed to take me nowhere. Roger [Daltrey] was angry with the world at the time. Keith [Moon] seemed as impetuous as ever, on the wagon one minute, off the next. John [Entwistle] was obviously gathering strength throughout the whole period; the great thing about it was he seemed to know we were going to need him more than ever before in the coming year
Slip Kid
One, two, three, four, five, six, seven, eight …
I've got my clipboard, text books
Lead me to the station
Yeah, I'm off to the civil war
I've got my kit bag, my heavy boots
I'm runnin' in the rain
Gonna run till my feet are raw
Slip kid, slip kid, second generation
And I'm a soldier at thirteen
Slip kid, slip kid, realization
There's no easy way to be free
No easy way to be free
It's a hard, hard world
I left my doctor's prescription bungalow behind me
I left the door ajar
I left my vacuum flask
Full of hot tea and sugar
Left the keys right in my car
Slip kid, slip kid, second generation
Only half way up the tree
Slip kid, slip kid, I'm a relation
I'm a soldier at sixty-three
No easy way to be free
Slip kid, slip kid
Keep away old man, you won't fool me
You and your history won't rule me
You might have been a fighter, but admit you failed
I'm not affected by your blackmail
You won't blackmail me
I've got my clipboard, text books
Lead me to the station
Yeah, I'm off to the civil war
I've got my kit bag, my heavy boots
I'm runnin' in the rain
Gonna run till my feet are raw
Slip kid, slip kid, slip out of trouble
Slip over here and set me free
Slip kid, slip kid, second generation
You're slidin' down the hill like me
No easy way to be free
No easy way to be free
No easy way to be free