The Kinks were so different than other bands. They may have reached the popularity of the Who if they wouldn't have been banned from touring in America in the late sixties.
The song pokes fun at the fashion scene on Carnaby Street in the Swinging Sixties London…I was written from the point of view of someone who was there living every minute of it. It was released on the Pye label in the UK on February 25 backed by "Sittin' On My Sofa," and on Reprise in the United States on April 27. The band's 10th UK single, it was produced by Shel Talmy.
The song makes me want to go to Carnaby Street but…only in the sixties when it acted as the epicenter of fashion.
The song peaked at #36 in the Billboard 100, #4 in the UK, and #11 in Canada in 1966.
Shel Talmy: "Ray Davies was one of the more prolific songwriters I have ever worked with. He could literally write a dozen songs overnight if he felt the mood. We used to get together about once a month or once every week or two and go through the stuff he had. I would pick out the ones that I thought were real far along, and the ones that were not so far along, and the ones that would probably never be far along. 'Dedicated Follower Of Fashion' was one that stood out immediately."
Carnaby Street…I look at sixties pictures of it and it looks really cool and different… when I see modern pictures of it…it looks like a shopping place that you could see at other places.
This looks like somewhere I would love to go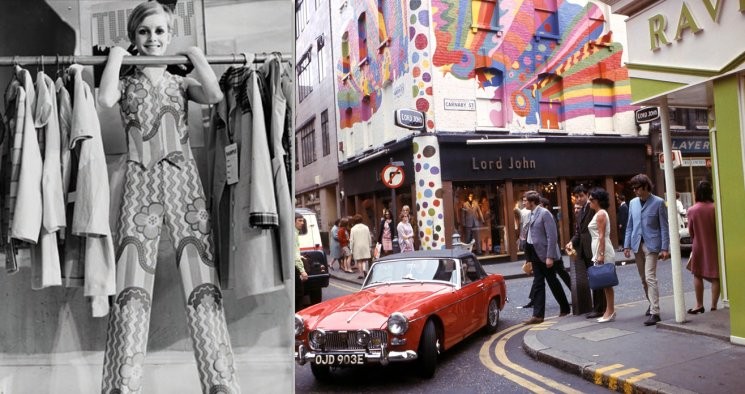 This one is modern…not as colorful!
From Songfacts
According to the online discography compiled by Kinks fan Dave Emlen, it was re-released in the US in August/September the following year, still on Reprise but backed by "Who'll Be The Next In Line."
"Dedicated Follower Of Fashion" is one of the band's best-known songs, and has been included on a number of albums.
Although Carnaby Street dates to the 17th century, like the Kings Road, Chelsea, it will be linked forever to the fashion explosion that happened particularly in Britain during the so-called Swinging '60s.
In spite of its chart success, not everyone in the Davies camp was enamored with the song. After Kinks bass player Peter Quaife died in June 2010, his obituary in the London Independent quoted him on it thus: "an incredibly boring song to play, and I had to play it night after night."
According to a 2011 NME interview with Ray Davies, despite its fey overtones, the song is actually a scathing attack on a fop who made fun of the singer's trousers.
Producer Shel Talmy helped frame The Kinks' raucous guitar sound, and also had a great ear for a hit song. In a Songfacts interview with Talmy, he said:
Dedicated Follower Of Fashion
They seek him here, they seek him there
His clothes are loud, but never square
It will make or break him so he's got to buy the best
'Cause he's a dedicated follower of fashion
And when he does his little rounds
'Round the boutiques of London Town
Eagerly pursuing all the latest fads and trends
'Cause he's a dedicated follower of fashion
Oh yes he is (oh yes he is), oh yes he is (oh yes he is)
He thinks he is a flower to be looked at
And when he pulls his frilly nylon panties right up tight
He feels a dedicated follower of fashion
Oh yes he is (oh yes he is), oh yes he is (oh yes he is)
There's one thing that he loves and that is flattery
One week he's in polka-dots, the next week he is in stripes
'Cause he's a dedicated follower of fashion
They seek him here, they seek him there
In Regent Street and Leicester Square
Everywhere the Carnabetian army marches on
Each one an dedicated follower of fashion
Oh yes he is (oh yes he is), oh yes he is (oh yes he is)
His world is built 'round discotheques and parties
This pleasure-seeking individual always looks his best
'Cause he's a dedicated follower of fashion
Oh yes he is (oh yes he is), oh yes he is (oh yes he is)
He flits from shop to shop just like a butterfly
In matters of the cloth he is as fickle as can be
'Cause he's a dedicated follower of fashion
He's a dedicated follower of fashion
He's a dedicated follower of fashion