One of the most recognizable riffs in rock and roll. This one was also one of their most popular songs. It wasn't ever one of my favorites by them but I did like it.
It was a rare thing for Zeppelin to release a single…but this was released as one except in the UK.  This song peaked at #4 in the Billboard 100 and #2 in Canada in 1970.
The lyrics are based on a 1962 Muddy Waters song written by Willie Dixon called "You Need Love." Led Zeppelin reached an agreement with Dixon, who used the settlement money to set up a program providing instruments for schools. All the members of Led Zeppelin get a writing credit along with Willie Dixon now.
Robert Plant has said that Steve Marriott was an influence and you can hear it really strong in the Small Faces rendition (I have it at the bottom) of You Need Love from 1966…and good 3 years before this was recorded. Marriott was one of the best singers of that or any era.
Jimmy Page played a theremin, a bizarre electronic instrument he liked to experiment with consisting of a black box and antennae, famously heard on the 1966 Beach Boys song "Good Vibrations." The sound is altered by moving one's hand closer to or farther from the antennae and was used to create the fuzz that alternates back and forth through the speakers.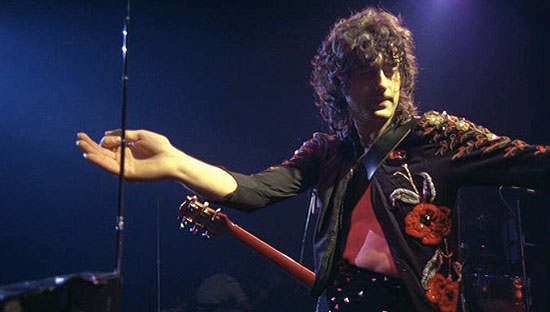 John Paul Jones: "The backwards echo stuff. A lot of the microphone techniques were just inspired. Using distance-miking… and small amplifiers. Everybody thinks we go in the studio with huge walls of amplifiers, but he doesn't. He uses a really small amplifier and he just mikes it up really well, so that it fits into a sonic picture."
From Songfacts
This blistering track from Led Zeppelin's second album contains some of Robert Plant's most lascivious lyrics, culled from the blues. It's not poetry, but he gets his point across quite effectively, letting the girl know that he's yearning, and ready to give her all of his love – every inch.
The massive drum sound was the foundation of this track, so Jimmy Page recorded it in the big room at Olympic Studios in London, which had 28-foot ceilings. One of the engineers, George Chkiantz, got the sound by putting the drums on a platform and setting up microphones in unusual places: a stereo boom eight feet above the kit, two distant side microphones, and a AKG D30 placed two feet from the bass drum. "For the song to work as this panoramic audio experience, I needed Bonzo to really stand out, so that every stick stroke sounded clear and you could really feel them," Page said in the Wall Street Journal. "If the drums were recorded just right, we could lay in everything else."
Jimmy Page served as Led Zeppelin's producer, and on this song, he let loose in the studio, using all kinds of innovative techniques, particularly in the freeform section about 1:20 in, which was the result of him and engineer Eddie Kramer "twiddling every knob known to man." This part is often referred to as "the freakout."
One of the more intriguing sections of this song comes at the 4-minute mark, where the distant voice of Robert Plant sings each line ("Way down inside… woman… you need… love") before his full-throated vocal comes in. This is known as "backward echo," and one of the first uses of the technique, but it happened by accident: A different take of Plant's vocal bled over to his master vocal track, so when Page and engineer Eddie Kramer mixed the song, they couldn't get rid of it. They did what most creative professionals do with a mistake: they accentuated it to make it sound intentional, adding reverb to it so Plant sounded like he was foreshadowing his lines from afar.
Led Zeppelin didn't release singles in the UK, where it was considered gauche, and in America, they didn't issue any from their first album. "Whole Lotta Love" was the first song they allowed as a US single, and it became their biggest hit, going to #4 (their only Top 10 entry) despite a 5:33 running time. Many of Zeppelin's most popular songs, including "Stairway To Heaven," were not released as singles.
Led Zeppelin used this as the basis for a medley they performed in their later shows. They had lots of songs by then, so they used the medley to play snippets of their popular songs they did not want to play all the way through. They incorporated various blues songs in these medleys as well, notably "Boogie Chillen" by John Lee Hooker, which was often followed by what they called "Boogie Woogie, by Unknown," and "Let's Have A Party" by Wanda Jackson. They would put this in when Robert Plant would yell, "Way Down INSIDE."
When this song became a hit in America, the UK division of the band's label, Atlantic Records, pressed copies of a shortened version of the song to release there, but Jimmy Page quashed that idea when he heard the 3:12 truncated edit ("I played it once, hated it and never listened to the short version again," he told the Wall Street Journal). The band issued a press release stating: "Led Zeppelin have no intention of issuing 'Whole Lotta Love' as a single as they feel it was written as part of their concept of the album." The American single is the same version as found on the album.
This was recorded on an 8-track tape machine at Olympic Studios, London in April 1968, but Jimmy Page waited to mix it until the band came to New York on tour in August because he wanted Eddie Kramer, who had relocated there, to work on it. To the delight of deconstructionists, Page later released the eight split tracks of Whole Lotta Love, along with the mixdowns, on the Studio Magik – Sessions 1968-1980 CD compilation. These stems reveal an entire middle vocal section that's totally different and the "da da" vocal about two beats behind what was released. In the drum tracks, during the rolls, you can hear John Bonham groaning.
The line, "Shake for me girl, I wanna be your back door man" is a reference to the "back door man" of blues cliché (popularized in a Willie Dixon song). This guy enters and leaves through the back door to avoid detection, as the lady is using him to cheat on her boyfriend or husband. This adds an illicit edge to the storyline.
After Page started fooling around with the theremin in the studio, it was open season for experimentation on the track; he started messing around with his guitar by detuning it and pulling on the strings, and Plant did his part by going to the extreme high of his vocal range. 
Page, Plant, and John Paul Jones played this at the Atlantic Records 40th anniversary concert in 1988 with Jason Bonham sitting in on drums for his late father. Jason joined the band again in 2007 at a benefit concert for the Ahmet Ertegun education fund, where they played this as the first encore.
In 1997, this became the only single Led Zeppelin released in the UK when a 4:50 edit was issued to celebrate the band's 30th anniversary. The singles chart was dominated by acts like the Spice Girls and Puff Daddy, and this release got little attention, reaching just #21.
Guitar World noted Page's use of the wah-wah pedal during his famous solo, securing its place at #17 on the magazine's 2015 list of greatest wah solos of all time. Jack White has cited it as the greatest guitar solo ever recorded.
Jimmy Page played the loose blues riff for the intro on a Sunburst 1958 Les Paul Standard through a 100W Marshall "Plexi" head amp with distortion from the EL34 output valves.
Alexis Korner hit #13 UK and #58 US with his mostly instrumental cover of this song in 1970 with his studio group CCS. King Curtis also did an instrumental version that went to #64 US that year. A vocal cover by The Wonder Band reached #87 US in 1987. Tina Turner recorded it for her 1975 album Acid Queen, and the London Symphony Orchestra also covered it. 
The remaining members of Led Zeppelin played this at their Live Aid reunion in 1985. Along with Tony Thompson, Phil Collins sat in on drums. Collins was the biggest presence at Live Aid. He played a set in London, flew to Philadelphia, played another set, then stayed on when Zeppelin took the stage. Jimmy Page was not happy – he thought Collins butchered it.
This song was performed by Leona Lewis and Jimmy Page at the closing ceremony of the 2008 Beijing Olympics during the hand over to the host of the 2012 games, London. Prior to the performance there was some concern about the track's somewhat family unfriendly lyrical content, but Lewis tactfully changed the words from "every inch of my love" to "every bit of my love."
They appeared alongside English soccer star David Beckham as symbols of British entertainment, both old and new. The performance took place in a magnificent, elaborate setting: Beijing's "Bird's Nest" Olympic Stadium. Lewis and Page appeared out of what had been a London double-decker bus, later transformed into a garden of green hedges. 
On May 5, 2009, this became the first Led Zeppelin song performed on American Idol when Adam Lambert sang it during Rock Week, with Slash as the guest mentor. The judges loved Lambert's version and he advanced to the next round.
In 2010, Mary J. Blige covered "Whole Lotta Love" and "Stairway To Heaven," which were released as downloads and appeared on the UK version of her Stronger With Each Tear album. Musicians contributing to these tracks include Steve Vai, Orianthi, blink-182 drummer Travis Barker and Randy Jackson of American Idol fame, who played bass. "Whole Lotta Love" was produced by RedOne and Ron Fair, who is Chairman of Geffen Records. >>
The song's guitar riff was voted the greatest of all time by listeners of BBC Radio 2 in a 2014 poll. "Sweet Child O' Mine" by Guns N' Roses came second in the listing and "Back In Black" by AC/DC third.
The songwriting credits on this track have been convoluted over the years. The four band members were listed as the writers on the original recording, and later, Willie Dixon was added as part of his settlement. But the ASCAP record shows this, which is often reprinted:
John Bonham
John Paul Jones
Pete Moore
Jimmy Page
Sharon Plant
The best we can tell, these credits come from a 1996 cover of the song by the British group Goldbug, which sampled Pete Moore's song "Asteroid." "Sharon Plant" is apparently a mistake (should be "Robert Plant"). This version of the song was a hit in the UK, reaching #3. At some point, Dixon's credit was omitted in most listings.
This song got a mention in the 2014 lawsuit alleging that Jimmy Page stole the intro to "Stairway To Heaven" from a song called "Taurus" by the group Spirit.
In 1968, Spirit played some shows on the same bill with Zeppelin, and "Taurus," an instrumental written by guitarist Randy California, was in Spirit's set. California died in 1997, but his estate filed the wide-ranging lawsuit, which accused page of nicking an entire sound during this time. It states: "Jimmy Page's use of the Etherwave – Theremin, and other psychedelic-type audio effects which helped give Led Zeppelin its distinctive sound – especially prominent in 'Whole Lotta Love' – was inspired by seeing California effectively use these types of audio-enhancing effects on tour."
The CCS version was used as the theme song to the BBC music show Top of the Pops from 1970-1977 and again from 1998-2003. Led Zeppelin never appeared on the program, as they had no interest in lip-synching and weren't a good fit for the TOTP audience.
Jack Johnson performed a very laid-back version of this song when he headlined the first night of the Coachella Valley Music and Arts Festival in 2008.
Robert Plant played this on his Strange Sensations tour of the UK in 2005. 
In Led Zeppelin: The Oral History of the World's Greatest Rock Band, Jack White, one of the most notable rock guitarists of the early 2000s, is quoted saying the guitar solo in "Whole Lotta Love" may be the greatest of all time. He's talking about the part running from 2:22 to 2:39, popularly called the "freakout."
Whole Lotta Love
You need cooling
Baby I'm not fooling
I'm gonna send ya
Back to schooling
A-way down inside
A-honey you need it
I'm gonna give you my love
I'm gonna give you my love
Want to whole lotta love
Want to whole lotta love
Want to whole lotta love
Want to whole lotta love
You've been learning
Um baby I been learning
All them good times baby, baby
I've been year-yearning
A-way, way down inside
A-honey you need-ah
I'm gonna give you my love, ah
I'm gonna give you my love, ah oh
Whole lotta love
Want to whole lotta love
Want to whole lotta love
Want to whole lotta love
You've been cooling
And baby I've been drooling
All the good times, baby
I've been misusing
A-way, way down inside
I'm gonna give ya my love
I'm gonna give ya every inch of my love
I'm gonna give ya my love
Hey!
Alright! Let's go!
Whole lotta love
Want to whole lotta love
Want to whole lotta love
Want to whole lotta love
Way down inside
Woman, you need, yeah
Love
My, my, my, my
My, my, my, my
Lord
Shake for me girl
I wanna be your backdoor man
Hey, oh, hey, oh
Hey, oh, hey, oh
Ooh
Oh, oh, oh, oh
Cool, my, my baby
A-keep it cooling baby
A-keep it cooling baby
Ah-keep it cooling baby
Ah-keep it cooling baby
Ah-keep it cooling baby
…