This is my favorite song on In Through The Out Door. The beginning sounds like the end of the world is coming. There is a build-up of sound and then Jimmy blasts the main riff of this song.
The intro was apparently taken from a soundtrack Jimmy Page was working on for fellow Aleister Crowley admirer Kenneth Anger's film Lucifer Rising.
The song was not released as a single as usual for Led Zeppelin but the album peaked at #1 in the Billboard Album Charts in 1979. This album and The Wall by Pink Floyd were said to help save a Record industry that was slumping at the time.
Jimmy Page used a drone effect on his guitar similar to create a sound similar to what he did on the song "In The Light," but instead of using a cello bow on his guitar, he used a Gizmotron to create the effect. The Gizmotron is a guitar processing device invented by Lol Creme and Kevin Godley from the band 10cc to get a strange distorted sound.
After reading about the Gizmotron…I want one!
Gizmotron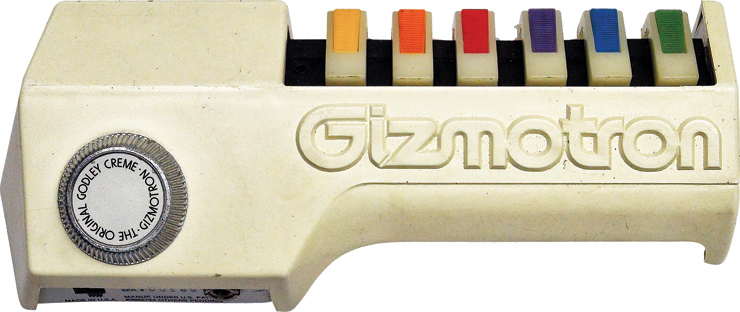 From Songfacts
Robert Plant's lyrics are about how the rich and famous are still exposed to pain and suffering, just in different ways.
When they were recording this album, Jimmy Page and John Bonham were spending a lot of time together and would usually show up at the studio very late and work through the night. This started out with just drums and keyboards created by John Paul Jones, who had a new drum machine to work with.
Robert Plant called this song, "A great one, a real stomper."
In The Evening
In the evening
When the day is done
I'm looking for a woman
But the girl don't come
So don't let her
Play you for a fool
She don't show no pity, baby
She don't make no rules
Oh, I need your love
I need your love
Oh, I need your love
I just got to have
So don't you let her
Oh, get under your skin
It's only bad luck and trouble
From the day that you begin
I hear you crying in the darkness,
Don't ask nobody's help
Ain't no pockets full of mercy, baby
'Cause you can only blame yourself
Oh, I need your love
Oh, oh, I need your love
Yeah, I need your love
I just got to have
Oh, it's simple
All the pain that you go through
You can turn away from fortune, fortune, fortune
'Cause that's all that's left to you
Oh, it's lonely at the bottom
Man, it's dizzy at the top
But if you're standing in the middle
Ain't no way you're gonna stop, oh
Oh, I need your love
Oh, oh, I need your love
Oh, oh, I need your love
I just got to have
Ooh, whatever that your days may bring
No use hiding in a corner
'Cause that won't change a thing
If you're dancing in the doldrums
One day soon, it's got to stop, it's got to stop
When you're the master of the off-chance
When you don't expect a lot
Oh, I need your love
Oh, oh, I need your love
Oh yeah, I need your love
I just got to have, I just got to have