This Emmy-nominated episode has acquired a reputation as the best of all Martin's hosting gigs. Its not my favorite episode…I do like it though… but it's probably one of the most important in the show's history.  It was a turning point for SNL. It went from a cult hit to a major player in the ratings during this period. Many people have picked it as the best episode.
Saturday Night Live has always been hit or miss in any era. The difference in the 70s is they would take more chances and Lorne made sure everyone had a chance in the cast.
The show introduced a lot of comedians and some unknown musical artists like Redbone and others that would not have gotten coverage on a network show.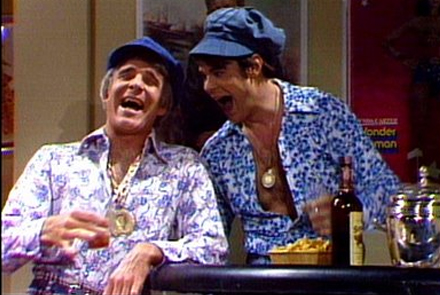 Saturday Night Live: Steve Martin/Blues Brothers
The Cast: Steve Martin, Dan Aykroyd, John Belushi, Jane Curtin, Garrett Morris, Bill Murray, Laraine Newman, Gilda Radner, The Blues Brothers, and Don Pardo
The host for the episode is Steve Martin (his fifth appearance), and the musical guest is The Blues Brothers (their second appearance). The skits for this episode are as follows: Concert promoter Don Kirschner presents footage of an old club performance by The Blues Brothers. For his opening monologue, Steve Martin talks about the inspiration for his comedy ideas, then does a magic act that ends with him tackling and beating a member of the audience.
The Festrunk brothers prepare their apartment for the two girls they believe are on the way, but their neighbor Cliff tells them they've been stood up. Medieval doctor Theodoric of York treats a series of patients by draining their blood. A man and woman catch each other's notice in a crowded club, and dance together romantically as the rest of the club freezes in place around them. During the Weekend Update, Jane Curtain and Dan Aykroyd debate abortion, Jane reports on Carter's energy policy and a new nasal contraceptive, and Dan berates Garrett Morris for short-changing him on the weed he bought. Steve performs a song about King Tut. The Nerds Todd and Lisa prepare their science fair projects. The Blues Brothers perform "I Don't Know".