This is based on a song called C'mon, God, and buy me a Mercedes Benz by the Los Angeles beat poet Michael McClure. Joplin saw McClure perform it, and on August 8, 1970, she reworked it into her own song, which she performed about an hour later.
This was a fun song off of Janis's last album Pearl. The song did not chart as a single but the album peaked at #1 in 1971 after Janis died.
Janis Joplin never got a Mercedes Benz, but she did have a 1965 Porsche that was painted to become a piece of hippie art.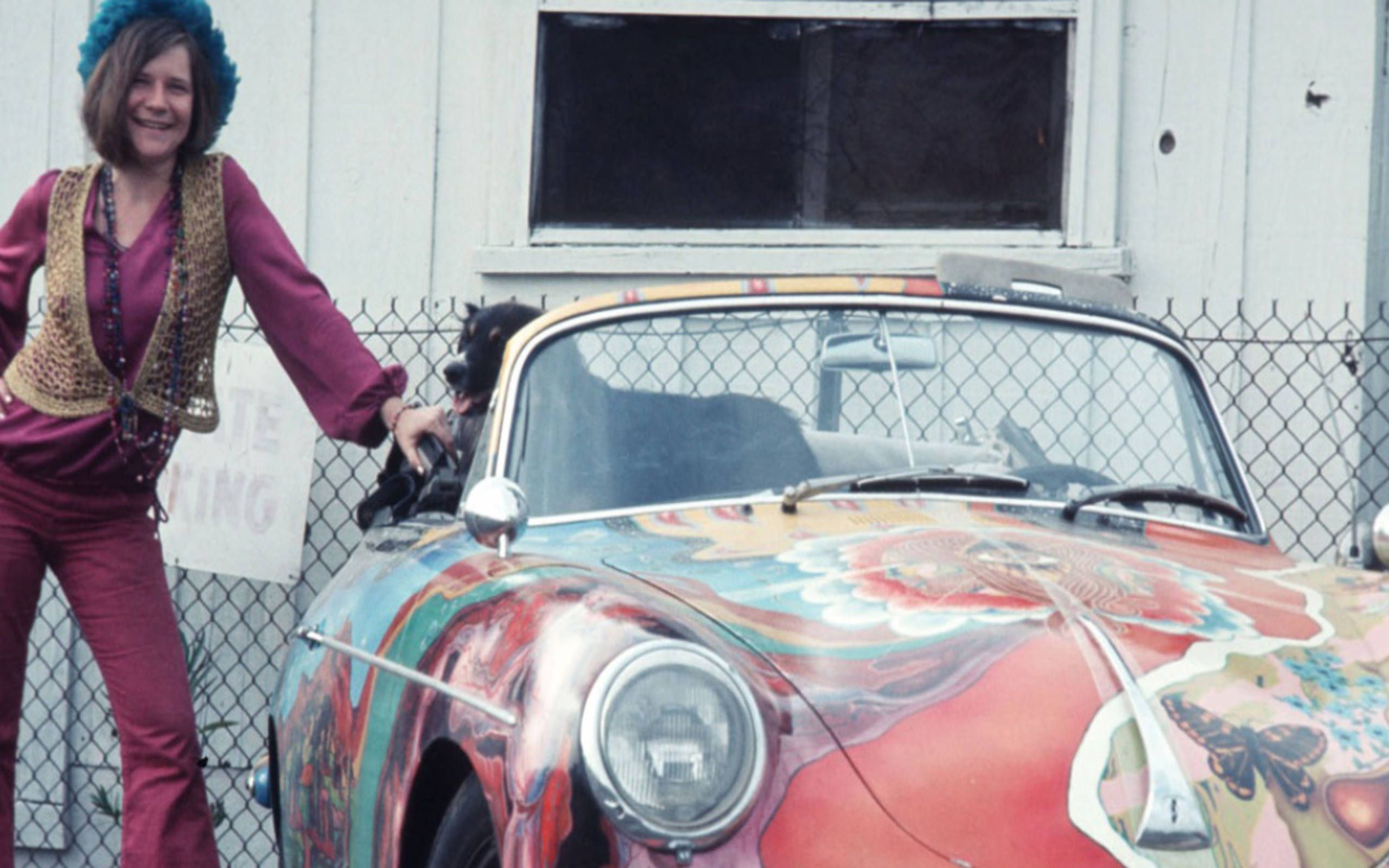 A lot of song facts for such a short song.
From Songfacts
As recounted in the Patti Smith memoir Just Kids, before her show at the Capitol Theatre in Port Chester, New York, she went to a nearby bar (likely Vahsen's, later renamed Little Dick's) with her good friend, the songwriter Bob Neuwirth, and two more recent acquaintances, the actors Rip Torn and Geraldine Page. Joplin started reciting the line, "Oh, Lord won't you buy me a Mercedes Benz" – the first line of McClure's song. The four started banging beer mugs on the table to form a rhythm, and Neuwirth wrote down lyrics he and Joplin came up with on a napkin. They finished the song, and Janis performed it at the show, introducing it by saying, "I just wrote this at the bar on the corner. I'm going to do it Acapulco."
That show was recorded and widely bootlegged, as it was her penultimate performance and the debut of "Mercedes Benz." Joplin played her last concert on August 12 at Harvard Stadium and died on October 4.
The song is a social commentary on how many people relate happiness and self-worth with money and material possessions. Sung a capella in a blues style, Joplin was poking fun at the mindset that luxury goods will make everything better.
Janis Joplin is from Port Arthur, Texas, a small city close to the Gulf of Mexico near the Louisiana border. In the second verse, the line "Dialing for Dollars is trying to find me" refers to a segment the local NBC station ran called "Dialing for Dollars." The station would announce a password on the air, then call a local phone number at random later on. If whoever answered knew the password, that person would win a cash prize. Variations of "Dialing for Dollars" ran in many cities throughout the United States and Canada in the '60s and early '70s.
This song spoke to the shift in the counterculture, as some of the impoverished musicians speaking out against the system were now very rich. As Barney Hoskyns, who wrote about Joplin and the song in his book Small Town Talk: Bob Dylan, The Band, Van Morrison, Janis Joplin, Jimi Hendrix and Friends in the Wild Years of Woodstock told us, "Rock was now big business, and a lot of money was flooding into the pockets of people who never expected to make it. This set up a mixture of expectation and guilt – they were acquiring a taste for the finer things but knew that a good hippie shouldn't be materialistic. By the early '70s it had all changed, and rock stars were the new Yuppies."
Joplin recorded this song at Sunset Sound studios in Los Angeles on October 1, 1970 with producer Paul Rothchild, famous for his work with The Doors. It ended up being her last recording session, as she died three days later (she also recorded a version of "Happy Trails" as a 30th birthday present for John Lennon" in this session).
The Pearl album was just about finished when Joplin died. Rothchild included her raw take of "Mercedes Benz" on the album, leaving it a capella. A quip Joplin made before her vocal take – "I'd like to do a song of great social and political import" – was included as an introduction. In its unadorned state, the song showcased Joplin's humor and raw vocal talent.
In the mid-'90s, Mercedes used this in commercials for their cars. It was one of the great misappropriations of a song in a commercial, as Joplin's song was meant to convey the message that owning a luxury automobile does not make you a better person. Joplin's estate – sister Laura and brother Michael – allowed Mercedes to use it.
There are three credited songwriters on this track: Joplin, Michael McClure, and Bob Neuwirth. McClure says he never earned a cent from his poetry, but "Mercedes Benz" paid for his house in the Butters Canyon section of Oakland, California.
In an interview published in hE@D Magazine, Michael McClure said that Joplin called him before recording the song to get his permission. She sang him the song, then he sang her his original version, and they both liked their own renditions better. "Then she asked me if she could sing it, and I agreed," McClure said. "I had no idea that her songs were worth so much money."
The soul singer Bobby Womack claimed credit for inspiring this song. According to Womack, Joplin got the idea for the song after riding in his new Mercedes 600. Womack was having success as a songwriter, and Joplin commissioned him to write a song for her Pearl album, which turned out to be "Trust Me." She recorded that one (which also appears on the Pearl album), and asked for another.
As recounted in his Womack's book Midnight Mover, he took her for a ride, and she was impressed with the new car. After a few blocks, she started singing: "Lord, won't you buy me a Mercedez Benz…"
When they returned to the studio, the band had gone home, but Joplin put down the vocal track. 
This took place on October 1, 1970. As Womack told it, Joplin got a phone call, which he presumed was her drug dealer. She asked him to leave, they hugged goodbye, and Joplin was found dead three days later.
Mercedes Benz
Oh Lord, won't you buy me a Mercedes Benz?
My friends all drive Porsches, I must make amends.
Worked hard all my lifetime, no help from my friends,
So Lord, won't you buy me a Mercedes Benz?
Oh Lord, won't you buy me a color TV?
Dialing For Dollars is trying to find me.
I wait for delivery each day until three,
So oh Lord, won't you buy me a color TV?
Oh Lord, won't you buy me a night on the town?
I'm counting on you, Lord, please don't let me down.
Prove that you love me and buy the next round,
Oh Lord, won't you buy me a night on the town?
Everybody!
Oh Lord, won't you buy me a Mercedes Benz?
My friends all drive Porsches, I must make amends,
Worked hard all my lifetime, no help from my friends,
So oh Lord, won't you buy me a Mercedes Benz?