The last time I posted a Steppenwolf song (Sookie Sookie)…a fellow blogger obbverse reminded me of this one and it had been a long time since I heard it.
Snowblind Friend was written by Hoyt Axton, who first released it on his 1969 album My Griffin Is Gone. The song was written about one of his musician friends who died of a drug overdose. Hoyt did not glamorize drug use in this song. He had his own problems with drug addiction and did what he could to warn of the dangers
Stoned on some new potion he found upon the wall
Of some unholy bathroom in some ungodly hall
Hoyt Axton wrote so many songs…one of them was Joy To The World, he wrote it around the same time as Snowblind Friend. Steppenwolf was offered Joy To The World but they passed. It ended up going to Three Dog Night… who took it to number 1. What I wouldn't give to hear a Steppenwolf version of Joy to the World!
This song introduced the word "snowblind" to the rock music lexicon to describe addiction, specifically to cocaine. The insidiousness of the drug and its grip on the user has never been conveyed so accurately and poignantly.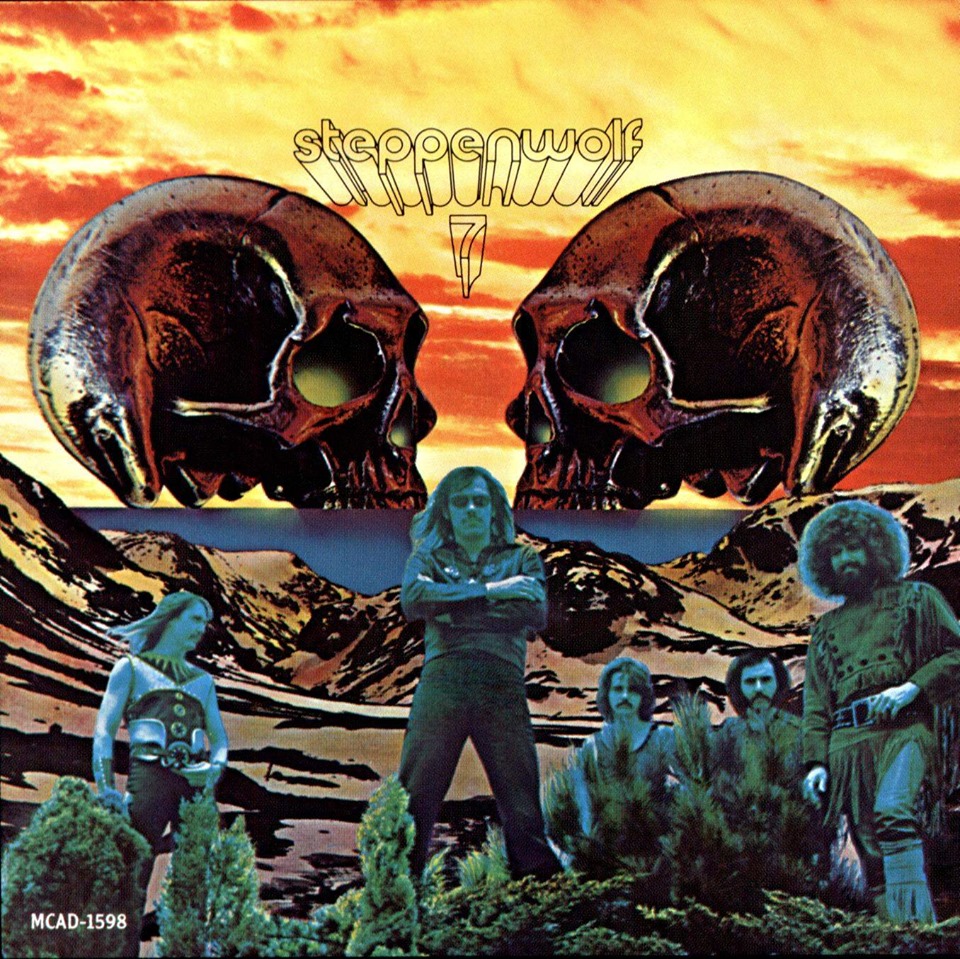 Steppenwolf 7
Snowblind Friend peaked at #60 in the Billboard 100 and #37 in Canada in 1970. It was on the album Steppenwolf 7 and it peaked at #19 in the Billboard Album Charts and #14 in Canada. This would be Steppenwolf's last top 20 album in their career. They did have a Greatest Hits album that peaked at #24 the following year.
They are not in the Hall of Fame yet but were nominated in 2017 but didn't make it. In 2018 the Hall did pick "Born to Be Wild" as one of the first five singles that shaped rock and roll to be inducted into the hall in its history.
Altogether they had 13 studio albums, 5 live albums, and 21 singles. 8 of the albums were in the top 40 and 7 of their singles were in the top 40. In Canada they were very popular…they had two #1's in Born To Be Wild and Magic Carpet Ride and 11 singles in the top 40.
John Kay: "That song spoke to me because I knew the person that the song was written about. That's why I decided, as a tribute to this young man, that we would do a version of it on the Steppenwolf 7 album."
This is a TV special on the Steppenwolf 7 album
Snowblind Friend
You say it was this morning when you last saw your good friend
Lyin' on the pavement with a misery on his brain
Stoned on some new potion he found upon the wall
Of some unholy bathroom in some ungodly hall
He only had a dollar to live on 'til next Monday
But he spent it on some comfort for his mind
Did you say you think he's blind?
Someone should call his parents, a sister or a brother
And they'll come to take him back home on a bus
But he'll always be a problem to his poor and puzzled mother
Yeah he'll always be another one of us
He said he wanted Heaven but prayin' was too slow
So he bought a one way ticket on an airline made of snow
Did you say you saw your good friend flyin' low?
Flyin' low
Dyin' slow