***Today I will be guest hosting a blog post featuring my top 10 favorite songs that the Beatles covered…with comments from Keith Allen (nostaligicitalian). Please come and visit if you can…Keith is the DJ I interviewed. Next week it will be my favorite Beatle songs that other people covered***
This Replacements song was inspired by U2's  I Will Follow. Paul Westerberg had seen U2 perform on April 1981 at bar named Sam's, where they actually played the song twice in their set.
He liked the sound of "I Will Follow," but he balked at what he considered its unrealistic message. The kids he knew weren't going blindly forth, their faith steadfast, their belief unwavering in the face of adversity.
They were still in their punk phase but on the next album they would start expanding their sound. I've been listening to their albums in order and the first three I wasn't as familiar with but I'll be posting at least one song off of each album as I go. 
The song was on their second release…an ep called Stink. It was released in 1982 on Twin/Tone Records.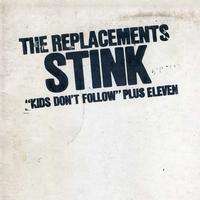 The intro to the song was not made in the studio, it was a real party where the police was called because of the noise.
The Replacements were playing at a rent-party for visual artist Don Holzschuh, opening for the the band Warheads. It was a massive multi-keg affair attended by a lot of underage kids. The Replacements' noise levels drew a visit and warning from the local police. Not long after they'd finished their set, the Minneapolis police decided to end the fun entirely.
As a uniformed officer took the microphone to disperse the crowd, Replacements' soundman Terry Katzman pressed record on his tape player. "This is the Minneapolis Police . . . the party is o-ver," he announced, to a collection of boos.
Future Soul Asylum singer Dave Pirner was at the party and he was one of the kids harassing the police. He has taken credit for being the one to yell "Hey, f**k you, maaaan!" starting at around 7 seconds below on the song.
Don Holzschuh talks about the party where the intro came from…
Kids Don't Follow
Go home…..this is the Minneapolis police….the
party's over…if you all just grab your stuff &
leave there won't be any hassle..the party's been
closed….etc.
One, two, three, four
Kids won't listen
To what you're sayin'
Kids ain't wondering
Kids ain't praying
Mo says he's worried
He says talk away
He says yeah I've been cured
I need some attention
No house of detention
I'd love some attention
Don't start again
Kids don't need that
Kids don't want that
Kids don't need nothing of the kind
Kids don't follow
What you're doin'
In my face out my ear
Kids won't follow
What you're sayin
We can't hear
Can't stop looting
Can't stop smoking
Kids ain't wondering
Can't stop choking
Kids won't stand still
Kids won't shut up
Kids won't do it
You talk to 'em now
Kids don't follow
What you're doin'
In my face and out my ear
Kids won't follow
What you're saying
We can't hear
Kids won't follow
What you're saying
In my face out my ear
Kids don't follow
What you're sayin'
We can't hear
What you say
Not tomorrow
Not today