I was watching a documentary of Evel tonight and I thought of a post I posted 3 years ago that only two people saw so I rewrote the post and updated it.
Whenever I see red, white, and blue not only do I think of the flag but I think of Evel Knievel. A hero to many in the 1970s… He is responsible for more broken arms, legs, bruises, bumps, scrapes than anyone… Kids setting up homemade ramps and then jumping them with their bicycles. I said kids…it wasn't exclusive to boys because I do remember some girls jumping also.
Riding down hills standing on your seat, popping wheelies, jumping ramps with your buddy stupidly laying in-between. We wanted to be Evel Knievel jumping over those cars or busses.
He was THE Daredevil… There are Daredevils around today but no one has reached the popularity that Knievel achieved. Not only did he jump and crash he looked cool jumping and crashing. He was like a cool Elvis in a jumpsuit jumping various objects.
Another big part of the Evel Knievel experience was the toys. There were not many kids who didn't have that windup motorcycle (the Stunt Cycle) and Evel Knievel doll…Make a ramp and wind up the Stunt Cycle with the little Evel riding and they would shoot out and go. There was also a truck, a dragster, and the skycycle…I'm sure there were more I'm missing. I only had the Stunt Cycle.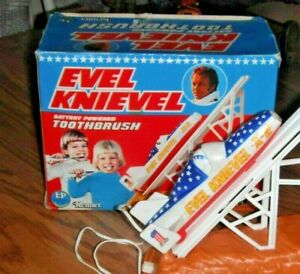 Evel made over 75 jumps ramp to ramp. He didn't fail many times…but one of his failures made his career.
Caesars Palace Jump… this one hurts to watch. Evel jumped over the fountain and then crashed as he landed on the ramp wrong… then tumbled like Stretch Armstrong rolling down a hill. His body was like rubber when it hit the pavement. 
The Caesars crash jumpstarted his career as the networks would play the crash over and over again.
Snake River Canyon… I remember the build-up to this jump…Everyone was talking about it…it ended up being the most anti-climactic out of all his jumps… No motorcycle of course…he was basically in a rocket and the parachute prematurely opened and Evel drifted safely to the bottom of the canyon.
Evel did jump the shark so to speak…
The Shark Tank…no, not the Fonz… It was not televised but in a practice run, Evel jumped a shark tank and then hit a cameraman coming off of the ramp. It did injure the cameraman.
Evel left a huge footprint in the seventies. He played hero to a lot of people including me.
His son Robbie has made a career out of doing the same thing. The interest isn't there as much anymore. There is no more must-see TV with anyone jumping vehicles. Maybe it's because Evel was the first on that level to do what he did and the timing of when he did it. With Vietnam, inflation, Watergate and the aftermath, he was embraced by adults and kids at a time when people needed a distraction.
I still ride a bicycle at a park sometimes for exercise…I can still see in my mind those old wood planks we used as ramps held up by a brick and I want to do it but…nah….I think I'll just look for another Stunt Cycle.
…