I like this song a lot and I was drawn to it right away when I listened to it on my copy of Bob Dylan's Greatest Hits…but I cannot connect to it like the listeners did in 64-65. It was more than a pop song.
Dylan wrote this in 1963 when the civil rights movement was underway and demonstrations against the Vietnam War were gearing up. It would become the anthem of his generation.
Sometime songs can sum up the generation and time they are released in and this one is one of the very few that does it.
The song was on Bob Dylan's 3rd album The Times They Are a-Changin' released in 1964. The song wasn't released as a single until 1965 and it peaked at #9 in the UK.
On December 10, 2010 Sotheby's in New York sold a single rather worn sheet of binder paper on which Bob Dylan
 wrote the original lyrics of his most famous song, The Times They Are A-Changin
, probably in October 1963. This battered piece of paper with messy writing sold for $422,500.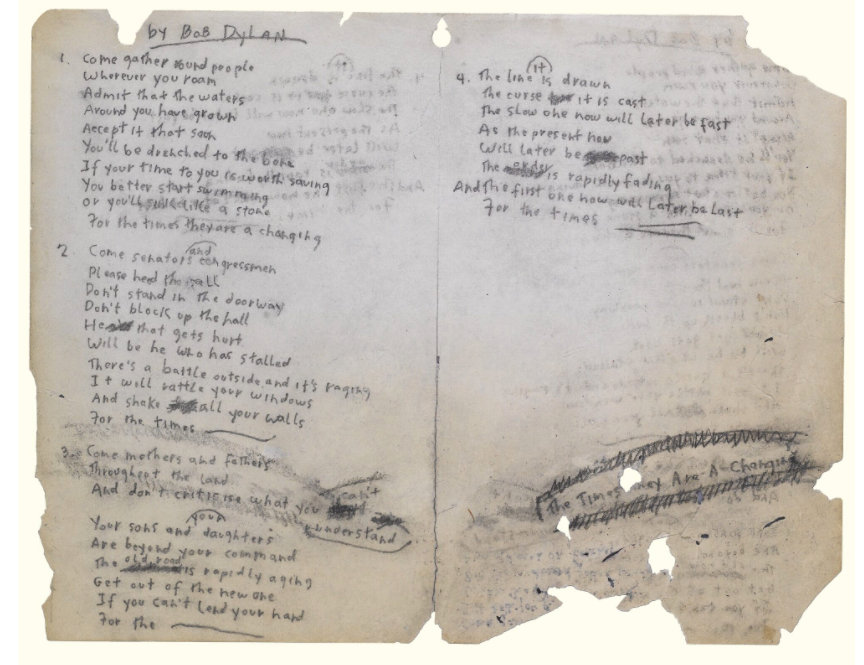 https://www.historyofinformation.com/detail.php?id=2750
The song was ranked number 59 on Rolling Stone's 2004 list of the "500 Greatest Songs of All Time."
Bob Dylan: "I wanted to write a big song, some kind of theme song, with short, concise verses that piled up on each other in a hypnotic way. This is definitely a song with a purpose. I knew exactly what I wanted to say and who I wanted to say it to." 
From Songfacts
A call to action, "The Times They Are A-Changin'" became an anthem for frustrated youth. It summed up the anti-establishment feelings of people who would later be known as hippies. Many of the lyrics are based on the Civil Rights movement in the US.
Dylan recorded this song in October 1963. He first performed the song at a Carnegie Hall concert on October 26 that year, using it as his opening number.
On November 22, 1963, United States president John F. Kennedy was assassinated, which made this song even more poignant. This also presented a quandary for Dylan, who had to decide if he would keep playing the song; he found it odd when audiences would erupt in applause after hearing it, and wondered exactly what they were clapping for.
Dylan kept the song in his sets. It was issued on the album of the same name on January 13, 1964.
Dylan covered the Carter Family Song "Wayworn Traveler," writing his own words to the melody and named it "Paths Of Victory". This recording is featured on "Bootleg Series Vol. 1-3". After writing that song, he re-wrote the words again, changed the time signature to 3/4, and created this, one of his most famous songs ever.
This was released as a single in the UK in 1965 before Dylan went there to tour. It became his first hit in that territory, climbing to #9 on April 21. British listeners liked what they heard from Dylan and made a run on his second album, The Freewheelin' Bob Dylan (released in 1963), sending it to #1 on April 11. This marked the first time in two years that an album by a group other that The Beatles or Rolling Stones was #1 in the UK.
Dylan allowed this to be used in commercials for accounting firm Coopers and Lybrand in the '90s. In 1996, he also licensed it for commercial use by the Bank of Montreal. 
This song appears on the official soundtrack of the 2009 movie Watchmen. A cover of Dylan's "Desolation Row" by My Chemical Romance also appears on the soundtrack. >>
Simon & Garfunkel covered this on their first album, Wednesday Morning, 3 A.M., in 1964. They were produced at the time by Tom Wilson, who also produced Dylan's The Times They Are A-Changin' album.
The Times They Are A-Changin'
Come gather 'round, people
Wherever you roam
And admit that the waters
Around you have grown
And accept it that soon
You'll be drenched to the bone
If your time to you is worth savin'
And you better start swimmin'
Or you'll sink like a stone
For the times they are a-changin'
Come writers and critics
Who prophesize with your pen
And keep your eyes wide
The chance won't come again
And don't speak too soon
For the wheel's still in spin
And there's no tellin' who
That it's namin'
For the loser now
Will be later to win
For the times they are a-changin'
Come senators, congressmen
Please heed the call
Don't stand in the doorway
Don't block up the hall
For he that gets hurt
Will be he who has stalled
The battle outside ragin'
Will soon shake your windows
And rattle your walls
For the times they are a-changin'
Come mothers and fathers
Throughout the land
And don't criticize
What you can't understand
Your sons and your daughters
Are beyond your command
Your old road is rapidly agin'
Please get out of the new one
If you can't lend your hand
For the times they are a-changin'
The line it is drawn
The curse it is cast
The slow one now
Will later be fast
As the present now
Will later be past
The order is rapidly fadin'
And the first one now
Will later be last
For the times they are a-changin'