Ginger Baker passed away Sunday, October 6th… Ginger was one of the best drummers in rock history.
Paul McCartney: Ginger Baker, great drummer, wild and lovely guy. We worked together on the 'Band on the Run' album in his ARC Studio, Lagos, Nigeria. Sad to hear that he died but the memories never will. X Paul
Mick Jagger: Sad news hearing that Ginger Baker has died, I remember playing with him very early on in Alexis Korner's Blues Incorporated. He was a fiery but extremely talented and innovative drummer.
John Densmore: A drumming force of nature, Ginger Baker has broke on through. Emblematic of his influence, I put 2 bars of his reverse-beat in "Hello, I Love You." 
Pete Brown wrote the lyrics and Jack Bruce wrote the music to White Room. He was inspired by a cycling tour that he took in France. The "white room" was a literal place: a room in an apartment where Pete Brown was living. It was not, as some suspected, an institution.
The music was written first. Pete Brown's first attempt at a lyric was something about a doomed hippie girl – the song was called "Cinderella's Last Goodnight." Jack Bruce didn't like it, so he scrapped that idea and pulled up an eight-page poem he had written earlier, which he reworked into White Room.
Pete Brown: "It was a miracle it worked, considering it was me writing a monologue about a new flat."
The song peaked at #6 in the Billboard 100 in 1968.
Cream in the 1970s… Pattie Boyd took the photo.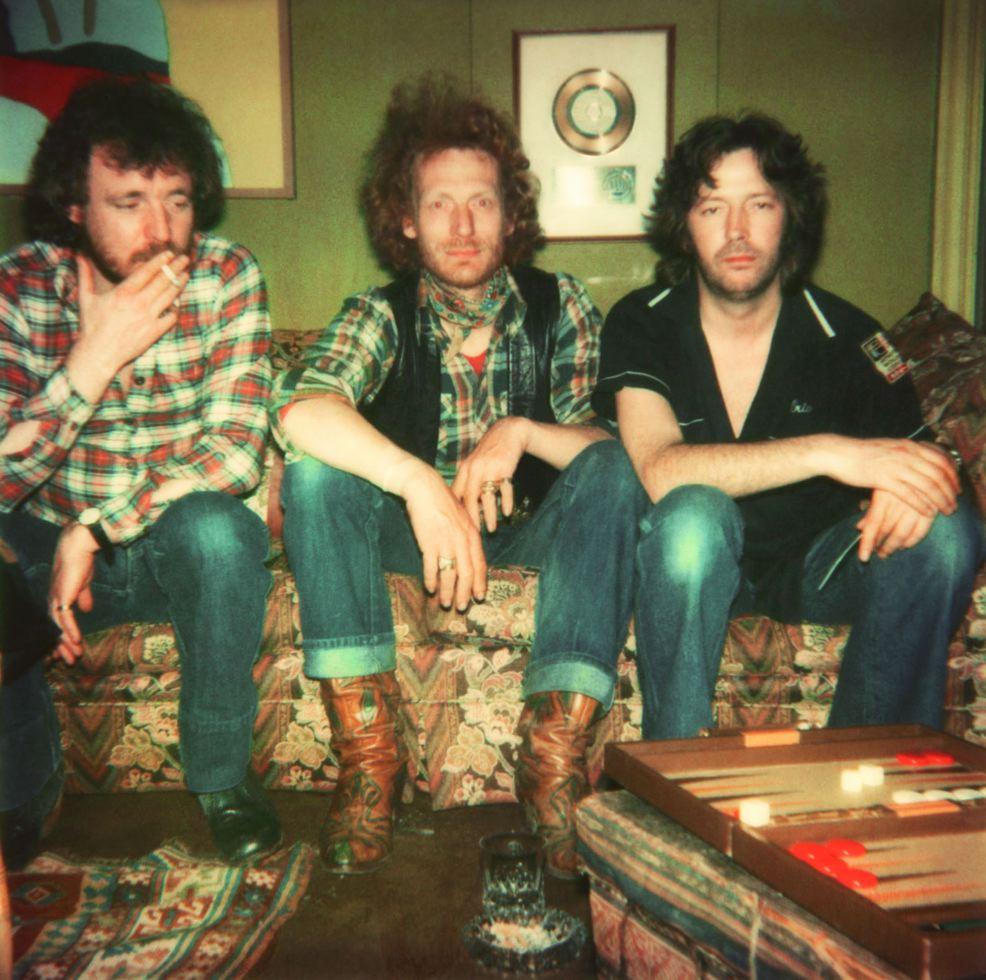 From Songfacts
This song is about depression and hopelessness, but the setting is an empty apartment. The lyrics were written by a poet named Pete Brown, who was a friend of Cream bass player Jack Bruce, the lead vocalist on the track. Brown also wrote the words for "Sunshine Of Your Love," "I Feel Free" and "SWLABR."
In a Songfacts interview with Pete Brown, he told the story: "It was a meandering thing about a relationship that I was in and how I was at the time. It was a kind of watershed period really. It was a time before I stopped being a relative barman and became a songwriter, because I was a professional poet, you know. I was doing poetry readings and making a living from that. It wasn't a very good living, and then I got asked to work by Ginger and Jack with them and then started to make a kind of living.
And there was this kind of transitional period where I lived in this actual white room and was trying to come to terms with various things that were going on. It's a place where I stopped, I gave up all drugs and alcohol at that time in 1967 as a result of being in the white room, so it was a kind of watershed period. That song's like a kind of weird little movie: it changes perspectives all the time. That's why it's probably lasted – it's got a kind of mystery to it."
Upon its release, Wheels Of Fire was given a terrible review by Rolling Stone magazine. They claim that "White Room" has "The exact same lines for guitar, bass and drums" as "Tales Of Brave Ulysses." If you listen to both songs, they are somewhat similar, but nowhere near the level they claim. 
Eric Clapton used a wah-wah pedal on his guitar. He got the idea from Jimi Hendrix.
Clapton's solo earned the #2 spot on Guitar World's greatest wah solos of all time in 2015. The #1 spot? Hendrix' "Voodoo Child (Slight Return)."
Why are the starlings tired? Because the pollution in London was killing them. Pete Brown also told us: "The 'tired starlings' is also a little bit of a metaphor for the feminine in a way, as well. It was women having to put up with rather a lot – too much pressure on them at the time."
More lyric interpretation courtesy of Pete Brown:
"Goodbye Windows" – "Just people waving goodbye from train windows."
"Black-roof Country" – "That was the kind of area that I lived in. There were still steam trains at one point around that area, so the roofs were black. It was black and sooty. It's got that kind of a feel to it."
On their last tour before the band broke up, Cream opened most of their shows with this song. When Cream did a reunion tour in 2005, they played it near the end of the sets.
Clapton refused to play this after leaving Cream until 1985, when Paul Shaffer urged him to play it while he was sitting in with the band on Late Night With David Letterman. That same year, Clapton played it at Live Aid.
This was released as a single after Cream had broken up. It did better in the US than in England, since Cream had caught on in the States.
In 2000, Apple Computer used this in commercials for their white iMacs. While the song does have the word "white" in the title, the subject matter is not good for selling computers.
Jack Bruce recorded a new, Latin-influenced version on his 2001 album Shadows In The Air. Clapton played on this as well as his new recording of "Sunshine Of Your Love."
Clapton performed this in 1999 for the album Sheryl Crow and Friends: Live From Central Park. Clapton and Crow were an item for a time in the '90s.
White Room
In the white room with black curtains near the station
Black roof country, no gold pavements, tired starlings
Silver horses ran down moonbeams in your dark eyes
Dawnlight smiles on you leaving, my contentment
I'll wait in this place where the sun never shines
Wait in this place where the shadows run from themselves
You said no strings could secure you at the station
Platform ticket, restless diesels, goodbye windows
I walked into such a sad time at the station
As I walked out, felt my own need just beginning
I'll wait in the queue when the trains come back
Lie with you where the shadows run from themselves
At the party she was kindness in the hard crowd
Consolation for the old wound now forgotten
Yellow tigers crouched in jungles in her dark eyes
She's just dressing, goodbye windows, tired starlings
I'll sleep in this place with the lonely crowd
Lie in the dark where the shadows run from themselves