I want to welcome my friend Jim to Beatles week. Jim's site is https://jimadamsauthordotcom.wordpress.com . I hope you can check it out. He has music and other subjects and…when I have a question about The Grateful Dead…Jim is THE man I go to. He tackles one of the most unorthodox songs of the Beatles today…or anyone for that matter. He also has Song Lyric Sunday that is fun to participate in…and I have on a few occasions. Take it away Jim…
Beatles in Animal Costumes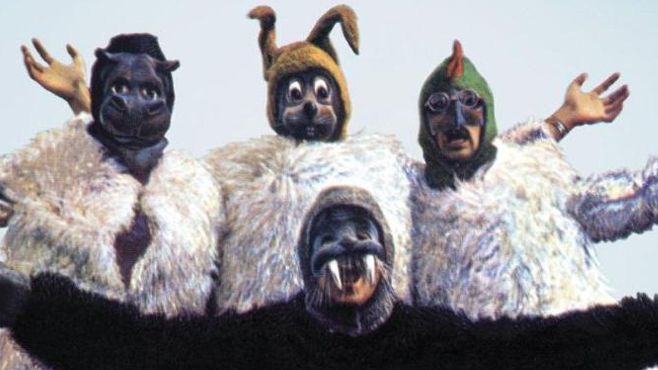 In their made for 1967 TV movie "Magical Mystery Tour", The Beatles wore animal costumes for the 'I Am The Walrus' segment of the film.  John is the walrus, Paul is the hippo, George is the rabbit and Ringo is the chicken.  It is the third film that starred the band and depicts a group of people on a coach tour who experience strange happenings caused by magicians.  The premise was inspired by Ken Kesey's Furthur adventures with the Merry Pranksters and the then-popular coach trips from Liverpool to see the Blackpool Lights.  'I Am the Walrus' didn't make much of an impact on the charts in the United States as the single only hit #56 on the Billboard Hot 100 and it stayed on the chart for just four weeks.  It didn't even make the charts in the United Kingdom.  This was released as the B-side to Paul McCartney's song 'Hello Goodbye', but John thought his song was better and that it should have been the A side.  This song probably can probably only be understood by people that have taken an LSD trip, as it is considered to be the strangest song that the Beatles ever recorded.  It is way over-analyzed, but I think it is a fun song, so I am going to write about it today for Max's Beatles Week.
This song is said to be John's answer to Bob Dylan being able to get away with murder using absurd, obscure, ambiguous lyrics as his style of songwriting.  Previously the Beatles wouldn't have used words because they didn't make sense, or what we thought was sense, but Dylan taught them a lot in this respect.  Lennon told Playboy years later that "I can write that crap too," which is a reference to the nonsense lyrics in this song.  John said, "The first line was written on one acid trip one weekend.  The second line was written on the next acid trip the next weekend, and it was filled in after I met Yoko."  I think it is best to discuss this sing one verse at a time, so that is what I will do.
I am he as you are he as you are me
And we are all together
See how they run like pigs from a gun
See how they fly
I'm crying
The first line in this song comes from the song 'Marching To Pretoria' which many kids sang in music class and this may be an update of an 1865 American Civil War marching song 'Marching Through Georgia' by Henry Clay Work.  The Weavers had a hit with this song in the early '60s and this song is
about the Boer War in South Africa which occurred during the 1890's.  John Lennon describes policemen as pigs and says that they duck for cover whenever there is a shootout or gun-fight.  The Beatles had been doing a lot of crying around this time since their manager Brian Epstein had recently died.  'l Am The Walrus' was the first song The Beatles recorded after Epstein's death which happened four days earlier.
Sitting on a corn flake
Waiting for the van to come
Corporation T-shirt, stupid bloody Tuesday
Man you've been a naughty boy
You let your face grow long
John Harvey Kellogg invented Cornflakes in 1878 in the hope that plain food which was specifically created to be bland, boring and flavorless would help people to stop masturbating.  Kellogg was a Seventh-day Adventist and he was allegedly against every idea of fun and he believed that sex and masturbation were unhealthy for the body and mind.  I imaging that John thought it would be fun to view sitting on a cornflake as a sexual act.  John never wrote about a van in this song, as he said, "Sitting on a cornflake, waiting for the man to come."  This line was miswritten by Hunter Davies (the Beatles' biographer) who thought John said "van to come", and John liked that better so he decided to use it.  "Bloody" is a mild profanity in British dialect.  "Stupid bloody Tuesday" would mean you're having a bad Tuesday, and complaining about it.  Lennon thought it was ironic that people would wear the logos of corporations, because he viewed them as heartless oppressors of the masses.  "Bloody Tuesday" may also refer to massacre that occurred in South Africa in 1946 when striking gold mine workers, marching peacefully, were fired on by police.  Much of this song is abstracted from Lennon's childhood memories, and this is something he would have heard about.  John made a comment on the norms of "proper" behavior.  Growing your face long references growing a beard, an act which was considered by many to be a sign of rebelliousness.  Advice books that came out in the 1960s illustrated how men should dress right, explaining that they should conform to the dress code without explaining how or why such a code came into existence.  These books explained why men should not wear facial hair of any kind, particularly beards, because men who are clean-shaven have a better chance of getting a job, and being widely and readily accepted in business.
I am the egg man
They are the egg men
I am the walrus
Goo goo g'joob
Lewis Carroll wrote The Walrus and the Carpenter which is recited by those fat twins, Tweedledee and Tweedledum, to Alice in 'Through the Looking-Glass' and Humpty Dumpty is also in that novel, so that may be what John Lennon is singing about when he mentions the eggman.  In this book Humpty Dumpty appears as an egg, although the original Humpty Dumpty was a cannon.  The eggman was a nickname given to Eric Burdon the Animals' singer by John Lennon, because he had a raw egg paraphilia fetish.  Burdon achieved this dubious distinction after he told Lennon about this wild time that he had with his Jamaican girlfriend Sylvia.  He said that he was up early one morning cooking breakfast, naked except for his socks, and she slid up beside him and slipped an amyl nitrate popper inhalant drug used to enhance sexual pleasure under his nose.  As the fumes produced a sensation of excitement in his brain he slid to the kitchen floor, and she grabbed an egg which she cracked into the pit of his belly.  The white and yellow of the egg ran down his naked front and Sylvia showed him one Jamaican trick after another, which I won't get into any further, although Lennon was thoroughly amused at this story.
The Walrus and the Carpenter poem describes how a carpenter and walrus gain the trust of a group of oysters only to betray the oysters and eat them.  Upon hearing the poem Alice attempts to make sense of the characters actions.  Alice first says that she likes the Walrus best because he expressed sorry for the poor oysters.  Tweedledee says, "He ate more than the Carpenter."  The walrus held his handkerchief in front, so that the Carpenter couldn't count how many he took.  Alice thought that was mean, so she changed her mind and said, "I like the Carpenter best, if he didn't eat so many as the Walrus."  Lennon like Alice expressed dismay upon belatedly realizing that the walrus was a villain in the poem.  John didn't catch the true meaning that Lewis Carroll was trying to express about the capitalist and social system and later, when he went back and looked at it, he realized that the walrus was the bad guy in the story and the carpenter was the good guy.  He thought he picked the wrong guy and that he should have said, "I am the carpenter."  But that would never have turned out to be as good.  It is written that Lennon got the line "Goo Goo Ga Joob" from the 1939 novel Finnegans Wake by James Joyce.  However, the closest approximation in Joyce is "googoo goosth", which doesn't quite have the same ring to it.  "Goo goo ga job" is supposedly the final words that Humpty Dumpty said before he fell off the wall and died.
Mr. City policeman sitting
Pretty little policemen in a row
See how they fly like Lucy in the sky
See how they run
I'm crying
I'm crying, I'm crying, I'm crying
Journalist and writer Hunter Davies, who had recently been commissioned to write The Beatles' authorized biography was at John's house in Weybridge, and they were swimming in his pool, when several streets away, they both head this police siren going and this prompted Lennon to write the line, "Sitting pretty, like a policeman", which later turned into "Mister city police-man sitting" to the insistent rhythm of a police siren.  John wrote the lyrics for this song by putting a sheet of paper into his typewriter and adding a line whenever the spirit moved him and when these fragments managed to fit, he had 'I Am the Walrus'.  John makes a reference to his trippy song, 'Lucy In The Sky With Diamonds' after saying see how they fly.  It seems like John may be describing an accident that he witnessed where where cops are dispatched, in a 911 context and cars were flying around, while the beat cops are running, and end up standing around, in a row, not needed in the capacity of that they turned out.  "See how they run" could be a reference to Three Blind Mice.  This also ties into the earlier reference of policemen that were described as pigs.  The British saying "keep a stiff upper lip", means that men should show restraint and avoid expressing their emotions and even when they are sad, they should not cry.  Lennon defies this by publicly announcing that he's crying and this appears at the end of a few verses.
Yellow matter custard
Dripping from a dead dog's eye
Crabalocker fishwife, pornographic priestess
Boy, you've been a naughty girl
You let your knickers down
In 1967, a student from Quarry Bank High School (Lennon's alma mater) sent John Lennon a letter telling him his teacher was conducting a class analyzing the Beatles' songs.  Lennon decided to take out his revenge on this letter and that motivated John to write a song that was beyond analysis for the simple reason that John didn't want it to make any sense at all.  The whole purpose of the song, according to John, was to confuse, befuddle, and mess with the Beatles experts.  John asked his old school friend Pete Shotton if he remembered that nursery rhyme that they used to sing.  Shotton gave them this rhyme, which Lennon incorporated into the song, "Yellow matter custard, green slop pie, all mixed together with a dead dog's eye.  Slap it on a butty, ten foot thick, then wash it all down with a cup of cold sick."  John incorporated all of this total nonsense into this song and said, "Let the fuckers' figure that one out."  "Crabalocker" has no meaning, but Fishwives were known to be very tough, as they were the ones who stormed the Bastille on Paris.  The BBC banned this for the lines "pornographic priestess" and "let your knickers down."  The naughty girl parallels the naughty boy, and John may have been commenting on the norms of "proper" behavior again here.  Proper men were supposed to shave and not supposed to show their feelings, and proper women were not supposed to expose themselves in public.
Sitting in an English garden
Waiting for the sun
If the sun don't come you get a tan
From standing in the English rain
Lennon is joking about the wet British weather, as people in the UK are often trapped in their homes, because it's too wet to go anywhere.
I am the egg man (How do you do sir?)
They are the egg men (The man maintains a fortune)
I am the walrus
Goo goo g'joob, goo goo goo g'joob
During mixing, John was fiddling with a radio that happened to be broadcasting a production of Shakespeare's King Lear.  John decided to incorporate it into the song, although it is barely audible on the record.  There's a small sound that appears to be the first indication of the play before the 5th verse but it's almost undistinguishable, and the production will be picked up again by the end of the song.  During this chorus, the portions inside parentheses were added to the lyrics coming from Act 4, scene 6 from a conversation between Gloucester and Edgar
Expert, texpert choking smokers
Don't you think the joker laughs at you (Ho ho ho, hee hee hee, hah hah hah)
See how they smile like pigs in a sty
See how they snide
I'm crying
Lennon was a chain smoker his entire adult life, in spite of trying to quit.  Lennon wanted to discuss the absurdities of society, and people smoking themselves to death.  Lennon is talking directly to those people who were over-analyzing the Beatles songs, by calling them texperts, as they though they knew what his lyrics were about.   Lennon knew that they would be wasting their time with this song, so he mocked them saying "Don't you think the joker laughs at you."  George Martin created an arrangement of eight violins and four cellos, three French horns, and a contrabass clarinet for the orchestra.  He hired the Mike Sammes singers a 16-voice choir of professional studio vocalists made up of 8 males and 8 females, known for their work on Disney films and TV themes.  They sang the "Ho-ho-ho, hee-hee-hee, ha-ha-ha", "oompah, oompah, stick it up your jumper!", "everybody's got one", as well as making laughing sounds, snorts and a series of shrill whooping noises.  Nothing like this had ever been heard on a popular music recording.  A pig's home is called a "sty" and people think that John was inspired to add this line from by George Orwell's Animal Farm.
Semolina Pilchard
Climbing up the Eiffel tower
Elementary penguin singing Hare Krishna
Man, you should have seen them kicking Edgar Allen Poe
Semolina is a kind of wheat paste and a pilchard is small fish.  Scotland Yard had a famous drug squad detective who built his drug squad career targeting musicians, including Mick Jagger, Brian Jones, Eric Clapton and Donovan named Detective Sergeant Norman Pilcher, and although it is not exactly the same, it has been speculated that is where "Semolina Pilchard" comes from.  He wanted the publicity that came from busting rock stars and I guess John figured that he would go out of his way to do this, even if it meant climbing up the Eiffel tower.  The Beat poet Allen Ginsberg started incorporating chanting the Hare Krishna mantra into his religious practice in the mid-1960s.  John viewed Ginsberg as being a fake, because he was putting all of his faith in one idol going on about Hare Krishna.  The words, "Elementary penguin" meant that it's naive to just go around chanting Hare Krishna all the time.  Ginsberg was influenced by Edgar Allen Poe. As he mentioned him in his poems, and in his writing about poetry.  Lennon took a jab at Ginsberg because of the way Ginsberg approached the work of Poe.  Lennon saw himself as the real deal, much like Poe was, but he felt that Ginsberg was faking it, and not doing Poe's work the justice it deserved.
Umpa, umpa, stick it up your jumper (jooba, jooba)
Umpa, umpa, stick it up your jumper
Everybody's got one (umpa, umpa)
Everybody's got one (stick it up your jumper)
Everybody's got one (umpa, umpa)
Everybody's got one (stick it up your jumper)
Everybody's got one (umpa, umpa)
Everybody's got one (stick it up your jumper)
Everybody's got one (umpa, umpa)
Everybody's got one (stick it up your jumper)
Everybody's got one (umpa, umpa)
Everybody's got one (stick it up your jumper)
Everybody's got one (umpa, umpa)
This phrase dates back to the Victorian prime of the British music hall tradition.  It was used both literally, as a way to hold packages when you walked along, and as a slightly politer version of the American "stick it up your ass".  'Umpa Umpa (Stick It Up Your Jumper)' was first recorded by comedy duo The Two Leslies in 1935, but was made very famous by Jimmy Edwards' recording in 1950.  The chorus has been a popular playground chant ever since.  Some people thought they were chanting "Smoke pot, smoke pot, everybody smoke pot."  Lennon, one of rock's best vocalists, was always frustrated by the sound of his voice, so for this song, he asked engineer Geoff Emerick to make his voice sound like it was coming from the moon.  As always, Emerick turned Lennon's strange request into the perfect effect.  Emerick recorded Lennon's vocals using a low-fidelity talkback microphone which helped create one of rock music's first distorted lead vocals.
'l Am The Walrus' was incredibly complex, ultimately taking 25 takes to complete.  On one of the earlier takes, Lennon was playing an electronic keyboard and he was making a lot of mistakes.  Ringo was having trouble keeping a steady tempo, as emotions were high due to Epstein's recent death and George Martin was getting frustrated.  McCartney jumped into action and saved the day by playing tambourine next to Ringo, acting as a human click track to keep Ringo in sync with Lennon's keyboard.
I am he as you are he as you are me
And we are all together
See how they run like pigs from a gun
See how they fly
I'm crying
Sitting on a corn flake
Waiting for the van to come
Corporation T-shirt, stupid bloody Tuesday
Man you've been a naughty boy
You let your face grow long
I am the egg man
They are the egg men
I am the walrus
Goo goo g'joob
Mr. City policeman sitting
Pretty little policemen in a row
See how they fly like Lucy in the sky
See how they run
I'm crying
I'm crying, I'm crying, I'm crying
Yellow matter custard
Dripping from a dead dog's eye
Crabalocker fishwife, pornographic priestess
Boy, you've been a naughty girl
You let your knickers down
I am the egg man
They are the egg men
I am the walrus
Goo goo g'joob
Sitting in an English garden
Waiting for the sun
If the sun don't come you get a tan
From standing in the English rain
I am the egg man (How do you do sir?)
They are the egg men (The man maintains a fortune)
I am the walrus
Goo goo g'joob, goo goo goo g'joob
Expert, texpert choking smokers
Don't you think the joker laughs at you (Ho ho ho, hee hee hee, hah hah hah)
See how they smile like pigs in a sty
See how they snide
I'm crying
Semolina Pilchard
Climbing up the Eiffel tower
Elementary penguin singing Hare Krishna
Man, you should have seen them kicking Edgar Allen Poe
I am the egg man
They are the egg men
I am the walrus
Goo goo g'joob, goo goo goo g'joob
Goo goo g'joob, goo goo goo g'joob, goo goo
Umpa, umpa, stick it up your jumper (jooba, jooba)
Umpa, umpa, stick it up your jumper
Everybody's got one (umpa, umpa)
Everybody's got one (stick it up your jumper)
Everybody's got one (umpa, umpa)
Everybody's got one (stick it up your jumper)
Everybody's got one (umpa, umpa)
Everybody's got one (stick it up your jumper)
Everybody's got one (umpa, umpa)
Everybody's got one (stick it up your jumper)
Everybody's got one (umpa, umpa)
Everybody's got one (stick it up your jumper)
Everybody's got one (umpa, umpa)
…