This is another youtube channel that I have been hooked on. Any channel with people trying to help animals I usually will watch. Unlike Chandler's Wildlife, there are no King Cobras, Crocodilians, Black Mambas, or many other reptiles. This guy takes in any animal that loses its mother, animals given up by people, and any lost ones that come in.
His name is Ben Christie (Uncle Ben) age 24. Right now he has a Kangaroo (saved from a Texas hunting range that charges hunters to hunt in a fenced-in area…which is disgusting to me), Prairie Dogs, Capybaras, goats, ducks, rabbits, deer, turtles,  dogs, Opossums, chickens, and the most interesting one is a Rhea named Kevin. Kevin was going to be euthanized by a farm because he was so aggressive…Ben took him in with his other Rhea named Karen. Rheas are not usually aggressive at all. The rest of his Rheas are great…it seems Kevin just wants to inflict pain on Ben. Fans mailed riot shields and nerf swords for him to deflect Kevin's bites.
I didn't know what a Rhea was until I saw this. I thought Kevin was an ostrich or an Emu. He will terrorize any non-farm animal but will generally leave his fellow farm animals alone. He even chased a coyote out of the farm.
The animals have become just as big of interest as Ben has through this channel. People tune in just to see what new animals he has and how the familiar ones are doing. He keeps humor going through the videos. He has named his animals after rappers, politicians, characters (Darth Vader), and just whatever pops into his head.
He has joke titles for each of the 12-15 minute videos. Some examples are: Why I Fed a Beaver to my Prairie Dog, How to Hatch Rhea Eggs (I'm NOT the Father!?), How to Survive a Rhea Attack (Lawsuit Pending), Kevin and I go to Therapy?? (Extremely Emotional) *we also rescue ducks*…
The story of Ben Christie is interesting… when he was in college, people would send him animals without a home and he lived in a small house off campus and he would take care of them. He was in his senior year of Baylor University and he got a job at Oracle as a sales rep. He kept on receiving animals and thought he would film what he was doing. He started with Tik Tok and finally decided he was done with Oracle because he just wasn't happy. He didn't know how he was going to live because he wasn't getting many views. The day after he turned in his two week notice he had a video to go viral. He then started his youtube channel and now around 2-3 years later has over 2.1 million subscribers.
He lived in Austin Texas but found a 3-acre property in Waco Texas and moved there. The small house was an old crack house. The property had old tires, junk, syringes, and everything else but he lived in a small camper and fixed it up. He started a not-for-profit shelter for animals. He is slowly building it up and his love for animals comes through.
I first noticed him on Chandler's Wildlife when he visited. In the first episode, I watched…the Kangaroo (when he lived in a smaller house) escaped and he took off running through the neighborhood before Ben finally caught him. I was imagining if I was his neighbor looking at my window that day. A barefoot guy with overalls and a straw hat, complete with a staff chasing a Kangaroo came by my window…I would pause to think about what I just saw.
Sometimes Ben will go to downtown Waco and grab ducks from under the bridge. I was wondering what he was doing but a lot of the ducks are not wild. They were dropped off by pet owners who couldn't take care of them anymore. He said they would be fine until winter came. He grabs a few and takes them back to his rescue.
A coyote killed one of his chickens during a drought so he captured it and gave it water because it was dehydrated. He ended up letting it go back into the woods. He is not licensed to keep coyotes so he called the authorities and they said they would come and euthanize or he could let it go… he took care of it and let it go.
The animals seem to appreciate all he does…except Kevin. You can tell if someone is genuine and Ben seems to be. I've read some articles about him and he has inspired a lot people to start small rescues to help out lost wildlife.
Ben has a  very goofy sense of humor and his videos are edited really well so that he doesn't lose your attention. He does this usually on an iPhone. I didn't get him at first but I watched around 3-5 episodes and I haven't stopped watching. The Urban Rescue Ranch
Prominent animals
Kevin
Karen
DaBaby
Poggers
Big Ounce…
Seeing this prairie dog makes me want one. When Ben pets and scratches him the prairie dog looks like he dies. So Ben has fun with this through a lot of videos.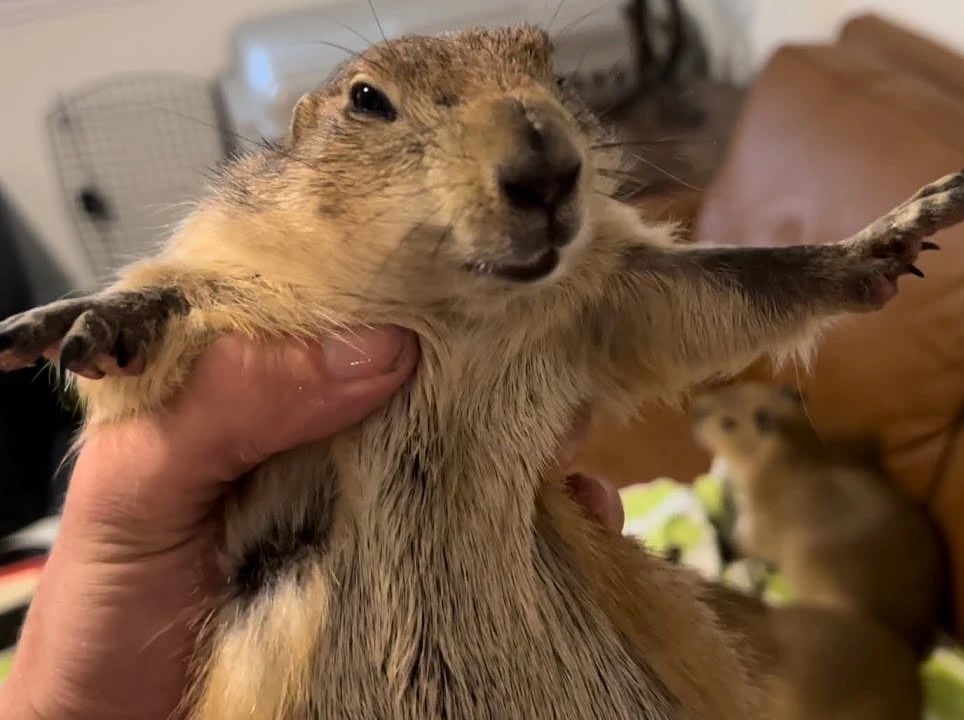 Gort and Quandale Dingle
Queen
…and too many more to mention.
This is Ben Christie telling how he started. 
…