***I have a bonus below the videos…an interview I did with a real DJ…Keith Allen (who is in our draft) about WKRP.***
I was 11 when this show aired. It was one of the shows from the late 70s that I wouldn't miss.
This show was not like the Mary Tyler Moore Show, Bob Newhart, or All In The Family. Those are great shows…some of the best ever sitcoms…but they were aimed more at adults while this one I always felt was largely aimed at teenagers. The show aired from 1978 to 1982. Rock and Roll on a sitcom was not common at that time at all. It was the hippest show on television in primetime.
WKRP in Cincinnati" was produced by MTM – the studio Mary Tyler Moore and Grant Tinker built that produces shows such as The Bob Newhart Show, Mary Tyler Moore Show, Phyllis, The White Shadow, Rhoda, and many others.
The episode I remember the most having an effect on me was about the horrible event in 1979 when eleven people were killed at a Who concert in Cincinnati's Riverfront Park. The show handled the tragic situation very well.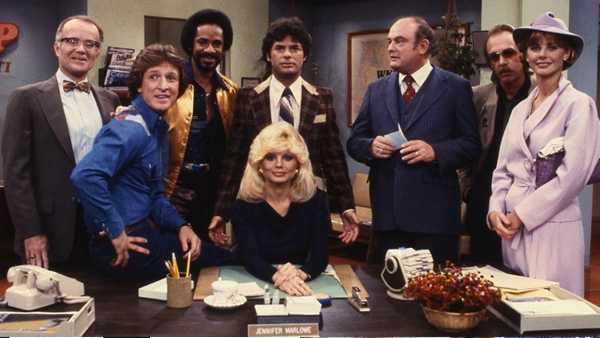 The plot…to make it short was about a Program Director (Andy Travis) who had a perfect record in turning bad radio stations around joins the staff at WKRP. The station is at the bottom of the ratings and he wants to change the format to Rock from Laurence Welk type music which is met with trepidation from the oddball staff. Actual radio DJs were excited because they loved that the show portrayed sides of the industry you never see. They were such big fans that they would send in bumper stickers, posters, and other items that were used to decorate the walls in the TV radio station studio. Howard Hesseman who played Dr. Johnny Fever was a DJ in the 60s in San Francisco.
The show would feature new rock music as well as old. Blondie gave the show one of their gold records in appreciation because the show played "Heart of Glass" and helped to make it number 1.
When you watch the reruns…they don't look as clear as some of the other shows of the era. Unlike Cheers, The Bob Newhart Show, Mary Tyler Moore, or M*A*S*H… WKRP was shot on videotape instead of film. That's why WKRP reruns are murky, instead of the pristine clarity of filmed shows
The show also caught radio before it started the change. The change was giant companies buying radio stations and having them pre-program shows without local flavor. It was beginning during the show's run. Slowly but surely the radio would be taken over by monopolies and we would lose some of the attachments we had to local DJ's… MTV came and made the divide wider. 
Close to 10 years after WKRP in Cincinnati had left the air, The New WKRP in Cincinnati premiered in 1991. Rejoining the cast was Gordon Jump (Arthur Carlson), Richard Sanders (Les Nessman), Howard Hesseman (Dr. Johnny Fever), and Frank Bonner (Herb Tarlek). Both Tim Reid and Loni Anderson made guest appearances but Jan Smithers and Gary Sandy decided to skip it.
Before I end I must mention an iconic episode that is always remembered. The Turkeys Away episode. Forty live turkeys were dropped from a helicopter onto an unsuspecting Cincinnati shopping mall below. In what was supposed to be a Thanksgiving giveaway promotion, the station's manager… Arthur "Big Guy" Carlson….decided to drop live turkeys from a helicopter.
At the end, Mr. Carlson says the phrase that elevates the episode to a classic. "As God as my witness, I thought turkeys could fly"
How close was WKRP to real stations? See below the videos…
The extended theme song by Steve Carlisle Wkrp In Cincinnati peaked at #65 on the Billboard 100 in 1979.
The Cast
Bailey Quarters – Jan Smithers – A shy soft-spoken lady in charge of billing and station traffic soon worked herself up to an on-air personality and other duties. She and Jennifer on the show were a bit like Mary Ann and Ginger on Gilligans Island…my pick is Miss Quarters any day of the week!
Andy Travis – Gary Sandy –Andy comes to the station as the new Program Director to turn the station around and finds the station's employees…are like from the Island of Misfit Toys. He finds their strengths and tries to make it work. His character was based on real-life Program Director Mikel Herrington.
Dr. Johnny Fever – Howard Hesseman – Fun Fact…David Cassidy was offered this role but turned it down.  The role ultimately went to Howard Hesseman, but only after he was invited to read for Herb Tarlek's character and flatly refused to read anything but Johnny.
Johnny had been around for a while and was fired off a Los Angeles radio station for saying booger on air. He was probably my favorite character…next to Bailey…on the show when I first watched. Dr. Johnny Fever was based on real DJ "Skinny" Bobby Harper.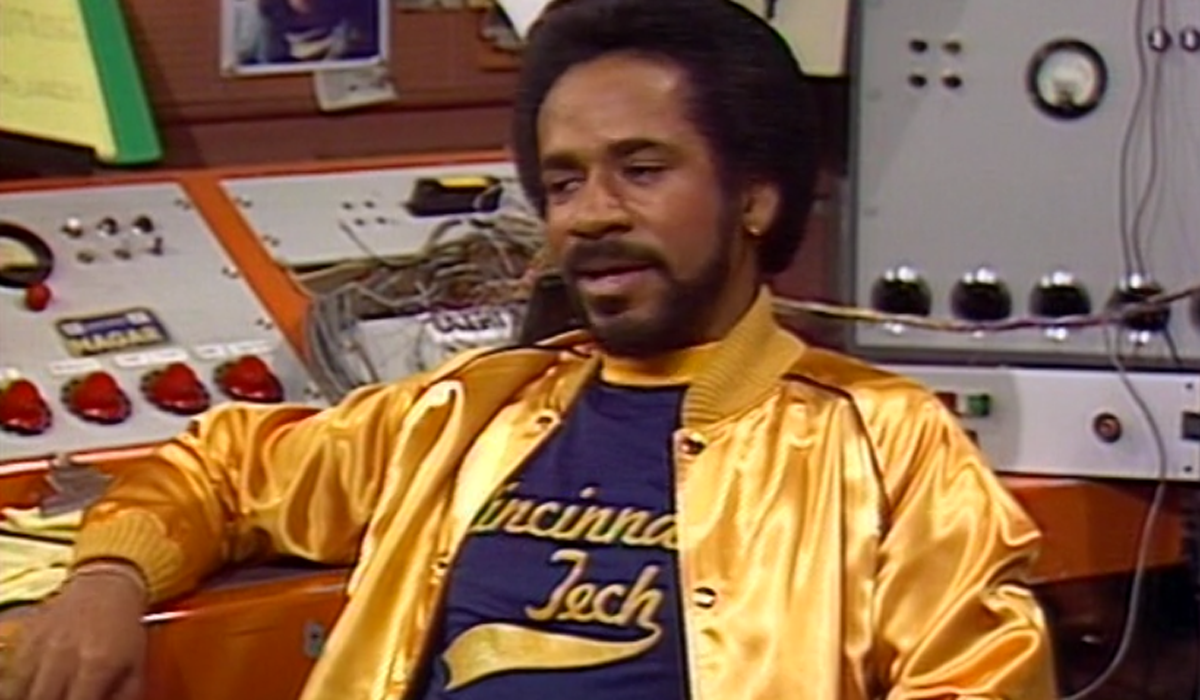 Venus Flytrap – Tim Reid – Venus was the night DJ and was one of the smoothest DJ's ever…Venus wears 70's type flashy clothes and in the series eventually becomes Assistant Program Director. Venus was the coolest character on the show.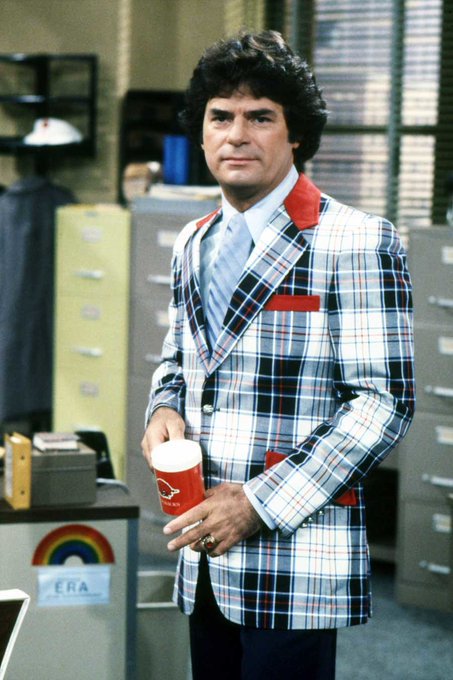 Herb Tarlek –  Frank Bonner – Herb was a salesman and dressed very tacky and loud. He hits on Jennifer at every opportunity, despite being married… but gets turned down constantly.
Jennifer Marlowe – Loni Anderson – She was Ginger to Bailey's Mary Ann. Mr. Carlson's receptionist…she was the highest-paid employee at the station even though refusing to do most things that receptionists are required to do. She was very intelligent though and Anderson demanded that before taking the role.
Arthur Carlson –  Gordon Jump – The lovable but ineffective station manager who is the son of the station's owner. He never wanted to know what was going on…, but when he tries to be hands-on…it leads to disastrous results (see Turkey's Away episode)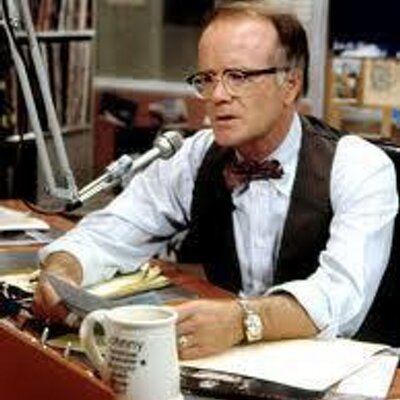 Les Nessman – Richard Sanders – The incompetent News Director…Les was obsessed with the region's hog farming industry…constantly mispronounced names… ignored obvious news stories for Hog Reports…but he would win the Silver Sow Award and The Buckeye Newshawk Award. He also had an invisible office with invisible walls that the station could not afford to build.
I interviewed a DJ…and he is Keith Allen who is in the TV Draft. I asked him
WKRP, what about it is realistic and what is not?

LOL – DJ's and other radio people get asked this a lot! I guess it depends on who you ask. Here are my thoughts –

Are there sales people like Herb?  Yes.  Are they as annoying?  Yes!

Are all news people like Les?  No, but there are plenty other folks in the biz like him.

Do all stations have a sexy secretary/receptionist?  Some of the stations I worked at did.

Are all General Managers like Mr. Carlson?  No, some are actually quite bright and know their stuff.

Do DJ's usually give their program directors (like Andy) a headache?  Yes.  Very much so!

Do Programmers and General Managers often not see eye to eye on what's going on with the station?  Many times this is true.

Can you get fired for saying "booger" on the air?  I don't think so.  We spent an entire morning talking about how those green raisins look like boogers and we weren't fired.

Do many DJ's have big egos like Venus and weird idiosyncrasies like Johnny?  Yes, and you know it almost immediately when you meet them.

In many ways, WKRP is very realistic and while radio people probably find the show funnier than the average viewer, we also find one thing particularly annoying – the DJ's don't wear headphones in the studio.  When a DJ turns on the microphone, the speakers in the studio shut off so there is no feedback.  The DJ can hear the music and his/her voice in the headphones, so they know when to stop talking.  These guys never seem to have headphones on and it has always bothered me.

They also seem to have the uncanny ability to throw a record on the turntable and have the song cued up immediately.  I never had to spin vinyl until I moved to the west side of the state.  I can tell you, you have to put the needle on the start of the groove, play it through a small cue speaker and wait for the song to start.  You then stop it and turn the record back a ¼ turn, so that when you hit start, it plays at the right speed and doesn't wind up to it.  Carts are a whole lot easier, but almost all the music on WKRP is on vinyl.