This is a three-part documentary made in 1987. It is one of the best documentaries I have ever seen…not just about Buster but anyone.  Each part is almost an hour long. Kevin Brownlow and David Gill wrote and directed this mini-series. This documentary is interesting for fans and non-fans alike. I have watched it multiple times and showed it to friends to didn't have much interest in silent movies and they ended up liking it.
Brownlow also worked on "Hollywood" (a 13 part history of the silent era that later I'll review), The Unknown Chaplin, and Harold Lloyd: The Third Genius.
This is in my top 5 of documentaries to recommend to people…I just wish it was easier to get. I had to order it from Europe to get a DVD copy of this.  You can watch all of them on Youtube...below
Buster Keaton was not only a great comedian but a great filmmaker. Some of his special effects in Sherlock Jr and other movies stand up today. I always thought that while Chaplin had the best comedy character…Keaton was the better filmmaker.
Part One (From Vaudeville to Movies)
Covers his vaudeville childhood with his parents. Because of child labor laws, his parents would claim that Buster was an adult actor. They would dress Buster to look old. This part goes through Vaudeville and up until Buster meets Roscoe Arbuckle and starts his career in movies.
Part Two (Star Without a Studio):
Part Two sums up his great silent movies. He did not work in the studio system…Buster had free reign with his movies in most of the 1920s working for Independent film executive Joe Schenck. Part two shows some of the best scenes from his silent movies until he had to join a studio (MGM) that along with his drinking helped ruin his career.
Part Three (Genius Recognized):
This part is the downfall and the comeback. Buster worked through the early thirties in some successful talkies but soon by the end of the 30s he was working as a gag writer. He was soon largely forgotten until he appeared in "Sunset Boulevard", commercials and TV. Buster was in a movie with Chaplin called Limelight in 1952. He began to be praised by historians, critics, and fans alike before he passed away in 1966.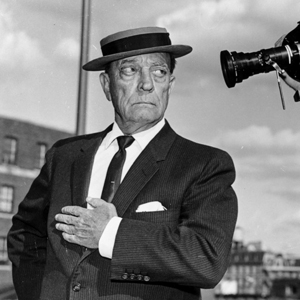 There is a new Buster documentary out called 'The Great Buster: A Celebration' by Peter Bogdanovich that I have yet to see. I plan to track it down soon. Either way, this one will be hard to beat.
Below is Buster Keaton: A Hard Act to Follow…the complete series.