I was told as a kid that a Magic 8 Ball could predict the future. I bought it hook line and sinker…I was also told by my older sister (8 years older) that snakes bite the second person in a line while I was merrily leading the way hiking in the woods as a 5-year-old…so I caught on pretty quick after I stepped on a snake…didn't get bit though…but I never let her forget it.
I bugged my mom till she got me the mysterious Magic 8 Ball. I was amazed at this toy…well it wasn't a toy to me. I thought this was great. So being 5-6 years old I thought I would put it to use… Oh, Magic 8 Ball should I color in the encyclopedias with my crayons? I shook it up and waited for the triangle to give me the answer… "signs point to yes"…those signs must have pointed in a different direction than my Mom… she wasn't a fan of the Magic 8 ball after that.
Abe Bookman invented the Magic 8 Ball, a fortune-telling toy currently manufactured by Mattel.
During World War II Alfred Carter in Cincinnati had created a tube-like fortune-telling toy. To help him he got his brother in law to help…that would be Abe Bookman. they created a 7" tube device with glass on both ends with a pair of floating dice with responses. It was sold as the "Syco-Seer: The Miracle Home Fortune Teller." Their company was called Alabe Crafts.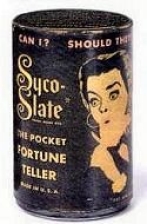 Carter died in 1948 and Bookman revised it into a crystal ball but it still didn't sell really well. Then the Brunswick Billiards company commisioned Bookman to make them one for them shaped like an 8 ball as a promotional giveaway.
After the giveaway was finished Bookman kept producing them shaped like an 8 ball.
The Magic 8 Ball that we have known since then has contained a 20-sided polygon inside a hollow plastic ball, floating in a liquid-filled, 3-inch diameter tube. The liquid largely consists of dark blue ink and alcohol. The predictions, yes, no, or non-committal, appear on each triangular face of the polygon.
Bookman marketed it as a conversation piece, a paperweight and then a toy.
Ideal Toys bought Alabe Crafts in 1971. Next, Tyco Toys bought the ball in '87. Mattel owns it today and sells one million units a year.
Here are the magical statements of the Magic 8 Ball
As I see it, yes
Ask again later
Better not tell you now
Cannot predict now
Concentrate and ask again
Don't count on it
It is certain
It is decidedly so
Most likely
My reply is no
My sources say no
Outlook good
Outlook not so good
Reply hazy, try again
Signs point to yes
Very doubtful
Without a doubt
Yes
Yes, definitely
You may rely on it.
https://en.wikipedia.org/wiki/Magic_8-Ball